Indian Super League
ISL 2018-19: Pradhyum Reddy - Pune City players should take a leaf out of Sunil Chhetri's book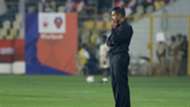 Pune City will take on Bengaluru FC on Friday at the Kanteerava Stadium and will hope to pick up three points to salvage what has been a disappointing Indian Super League (ISL) season so far. 
The Stallions have won just one match so far but interim coach Pradhyum Reddy is of the opinion that it will be a challenge to get a result against Bengaluru FC who are table-toppers. 
"The plans are the same for every game irrespective of what has happened in the past. It is a good challenge, you want to test yourselves in every football game.
"The best test at the moment this season is to pit your wits against Bengaluru FC. They are the team that is top of the table. They are the team that is unbeaten and the team that everyone would like to beat. It is no different for us. Irrespective of where we are in the table and what has happened to us this season, that will be a great feather to have in the cap if we can manage to get a result here," Reddy said ahead of the match.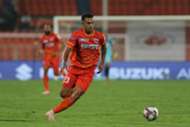 Pune's defence has conceded a league-high 19 goals from nine matches so far and Reddy has a job on his hands to find the right balance for his team. 
"The defence has been an issue over the course of the season but you look at the last match, defensively throughout the 90 minutes, we were pretty well organized. We considered from a setpiece which is something that has been an Achilles heel this season.
"The bigger concern is when we have played too defensively, we haven't managed to have an attacking threat. When we have gone out to attack, we have left holes at the back. I think we have to find the right balance.
"The fact is that the team has not managed to settle. There were changes from last season to this season, in the preseason and in the beginning the season. When you have an unsettled team, these things happen. Teams at the top of the table are a lot more settled than us."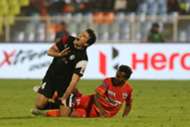 Reddy does not believe Bengaluru are a weakened team despite the injury to star striker Miku who has been ruled out until January due to an ankle injury. 
"I wouldn't say they are weakened because they played against FC Goa without Miku and they won. They played without Miku in the last game and they won. If you look at Bengaluru, one of their strengths is that collectively, they are very strong. They don't rely on any one individual. They have many good players in their team.
"They work as a unit, every single one and it is exemplified by what Sunil Chhetri does. Sunil's one of the best players in the league but it is not just what he does in terms of his goals, it is his overall contribution. 80 minutes into the game against Delhi, he is sprinting back to block Rene Mihelic from crossing the ball, it is a collective team effort that you see from teams at the top of the table. They are going to work not just when they have the ball.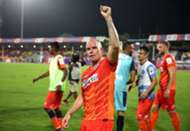 "I think what we should do, rather than worry about how we stop Sunil, is take a leaf out of Sunil's book. If our players start to follow that kind of mindset, where you work hard both in terms of trying to score and when you lose the ball and in transitions, then that should help us as a team to perform better."
The Stallions head coach also launched a strong defence of his striker Robin Singh and referred to on-loan striker Emiliano Alfaro's goalscoring as an example to state that Indian strikers need to be given chances and time. 
"If you look at the stats, he has got two assists. He is doing his job, he could do more but obviously, everyone could do more.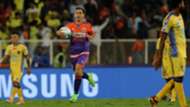 "If you look at Emiliano Alfaro, if you take away the penalties he scored last season, he has scored 5 goals. He went about eleven games without scoring from open play. If Indian strikers are given that opportunity, a continuous run of 11-12 games even when they are not scoring, to give them the confidence, I am sure they will be able to match that kind of figures as well. You have to give them chances, everybody misses chances.
Pune have had a tough time with the availability of their foreign players. Diego Carlos, Marcelinho, Marko Stankovic have all missed matches due to either suspensions or injuries. 
"Unfortunately, we haven't had enough contribution from them in terms of availability. Diego came on and scored. Then he played, got a red card and was unavailable for the next three games, comes back from suspension, scores, tears his hamstring and is now unavailable until the end of the year. Same case with a couple of other players. We haven't had them available for as long as need and if they aren't available, we can't really judge them on what they have done."