Indian Super League
ISL 2017: Komal Thatal set to join ATK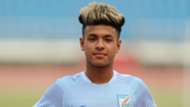 Teen footballing sensation Komal Thatal is all set to join Indian Super League (ISL) side ATK, after refusing to join Indian Arrows team participating in the I-League. 
The Sikkimese-born player flew to Kolkata couple of days back with his signing expected to be announced anytime in the near future. 
Indian Arrows coach Luis Norton de Matos had earlier revealed that Thatal was excluded from the squad, since he wanted to play in the ISL.
"Komal was like Aniket (Jadhav) - an option for the U-19 team. Aniket came out strong but Komal had another reaction. He wants to play in another project. The door is open for all the players from the U-17 World Cup and it's a question of personal decision.
"He says that he wants to go in an ISL team and I respect that. Komal is not here because he doesn't want to be here and not because the coach doesn't want him to be here. It's completely different," said Matos.
Thatal played against USA in the inaugural match of the U-17 World Cup but was subsequently ignored by Matos against Colombia and Ghana. It was initially believed that the winger failed to make the cut because of his short physical stature. He was also excluded from the U-19 squad that went to Qatar for the AFC qualifiers.
The Sourav Ganguly co-owned side has had a dismal start to this edition of ISL under the tutelage of Teddy Sheringham as they sit last on the league table.
It must be noted that he cannot take part in the I-League anymore this season because the clubs had to give out a roster of five players from their reserves whom they could add to the squad later on to the All India Football Federation (AIFF). Indian Arrows have not included Thatal in their list.