Indian Super League
ISL 2017: Rene Meulensteen in 'no rush' to bring Wes Brown into the starting lineup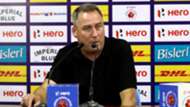 Rene Meulensteen was cautious when asked about Wes Brown's chances of making it into the first team against Mumbai City in Kerala's third Indian Super League (ISL) game at the JLN Stadium, Kochi.
Wes Brown had earlier picked up a niggle during a practice game and is yet to make his debut for Kerala Blasters.
"It's a shame really. Wes was really keen to hit the ground running. The good thing is Lakic-Pesic and Sandesh (Jhingan) has been a very good pairing from our end. There's no rush because he has to get to full match fitness," said the Kerala Blasters head coach.
Blasters are yet to register a win this season, having fired blank in consecutive home games against ATK and Jamshedpur FC.
"First of all, it's important to not make it an issue bigger than it is. We need to have a clear realistic look at the games and leave the emotions."
"In the second game, we kept the ball far better than we did against ATK. The next step is to convert that into goals. As soon as you score the first one, it will bring confidence to the team."
The home side has had a week's rest going into Sunday's fixture whereas Mumbai City played their previous fixture as recently as Wednesday.
"It's a very hard to put a finger on it [fixtures]. We have had more than a week after the last week. When you are playing a lot of games back-to-back, it's a different rhythm you get into. You can get into a quicker match rhythm and keep it. We can only focus on ourselves. The players are raring to go again."
With a fully fit Wes Brown ready for action, Meulensteen has an option to go with three defenders at the back but the former Manchester United coach is not ready for a sudden change of system.
"It is an option. which brings a little bit of a risk with it. You will always need to make sure that we cover for that."
"It's not something that you can throw at the players. I'm gonna go for an understandable approach."
Mumbai City have not been the dominant side in any of their games. Alexandre Guimaraes is content to sit back and hit teams on the counter and Rene Meulensteen is wary of their threat.
"Mumbai's three games have shown that they are happy to give possession to the opposition. They have got some quick players at the front."
Star striker Dimitar Berbatov is yet to get off the mark this season but the coach is not too worried, considering his skill set on the ball.
"Some players can only play as a striker, they are dependant on what is going on behind them. Ruud Van Nistelrooy will only be able to play as a striker. If you compare Berbatov's touches from the first game to the second, there is a big difference. You always know he comes up with something good," concluded the coach.