Indian Super League
ISL 2017: FC Pune City's Ranko Popovic 'motivated' to defeat Chennaiyin FC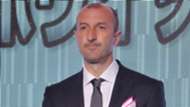 The Indian Super League (ISL) is in its fourth season and FC Pune City are yet to taste any sort of success against Chennaiyin FC. These two sides renew their rivalry on Sunday and Pune City's Ranko Popovic could not have been more excited to potentially break the record.

"That's one more reason to be motivated. Whatever has happened in the past - you can use them to change and motivate yourself for tomorrow. The biggest motivation for us, however, has to be the three points and repeat another good game in front of our supporters. And also make the connection between the players and supporters stronger because we need to be together.

"I can talk about being on top of the table only after tomorrow's game in which we must try to win. In any case, we cannot spend our energy now to think of the future; we need to focus on tomorrow's game first," he said on the eve of the contest.

He added, "Of course going on the top of the table is a motivation. That's the reason we are here. Now we have to go and give everything whatever we are learning together. We have to play and enjoy; the people also want to come and enjoy our play."

The Stallions have been playing home and away games alternatively and the travel seems to have taken a toll on the players.
"I'm not someone who rotates the squad but we have some problems in some players and this is difficult because when you play four games in 11 days and you have 14 matches ahead, so that's nearly 30 per cent of the matches in those days, which is too much.

"I'm not good at mathematics but if we can put all players tomorrow it will be good but there might be two-or-three players who won't be able to play. We will wait for the medical reports. I'm sorry if I can't repeat the same even if I like to do so. If I can't repeat the same team, it will be a chance for other players," he confessed.

"First the players have to refresh their minds because this will be their fourth game in 11 days. Maybe somebody could be psychologically tired. Only if you are fresh, your body can work. I want them to have a strong mentality and good team spirit. If we do so, we are one strong team."

Interestingly, these two sides met in a closed-door friendly game during pre-season and the former FC Tokyo boss had a lot to learn from the experience. "We had played a training game against Chennaiyin [during pre-season]. They are very strong with a very good coach. They have a good bunch of players and also some very physically strong players. We aren't specifically physically strong but we are mentally strong, I think," he concluded.