Indian Super League
ISL 2017-18: Ranko Popovic satisfied with Pune City's performance in first-leg draw
10:28 PM GMT+4
07/03/2018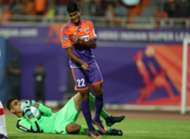 Pune City head coach Ranko Popovic was satisfied by the performance of his team as they played out a goalless draw against Bengaluru FC in the first leg of their Indian Super League (ISL) semi-final.
The Stallions created chances to score but could not put the ball into the back of the net as they squandered their chance to take advantage of the home leg. 
"I am satisfied. I hope I will be happy on Sunday (March 11, 2018) night (after the second-leg). Neither team wanted to make a mistake and lose the advantage. I think this game was very competitive. It was interesting. We drew tonight but Indian football won," said Popovic.
"We have to be ready for everything (in the second leg). What we have to do is score goals, what we want to do is score goals and win the game there. Both teams will want to score goals."
ISL has introduced the away-goal rule this season and Pune City can now make use of that when they take on Bengaluru at the Kanteerava Stadium on March 11. Popovic's men have performed well in away games and held the Blues to a 1-1 draw at their own turf in the league stage. 
"We did not want to be better in away games, we wanted to be good both home and away. We have to be smart, today's (Wednesday) was a smart game. When we play like a team, we are really good and competitive and we can beat everyone.
I am satisfied with the performance, not the result. Today, our work was very hard but very good. We don't have to change too much, we only have to believe in ourselves."
The Serbian coach also touched upon the support from the crowd in Pune as well as his stint in India.
"Today (Wednesday) it was fantastic to play in Pune. If they (supporters) believe in you, you have to repay that belief. The supporters have been fantastic. 
ISL experience has been fantastic for me so far. The organisation of this league has been of the highest level. If I am here next season, I will enjoy it. If I am not, I will enjoy this from far away but I cannot tell you about it right now," said Popovic who also felt that the refereeing was quite okay on the day.
"I was praying to not have the same referee from our last two games but today's referee was good."