Indian Super League
ISL 2017-18 Playoffs: Bengaluru FC's Naushad Moosa wary of tough opponents Pune City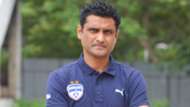 Indian Super League (ISL) debutants Bengaluru FC face first-time semi-finalists FC Pune City in the first leg of the first playoff at the Balewadi Stadium in Pune on Wednesday.

Naushad Moosa, the Bengaluru FC assistant coach, talked about the big match on the eve of the game. "There's no pressure from the coach on the players. He always wants the boys to have a good game and keeps telling them to stay humble and grounded. It is about playing your game and not getting carried away. [They should] have a good game, results [will] come. There is no pressure from the club," he said.

Talking about the opposition FC Pune City, Moosa commented, "They have lost only once in the last five matches. They're aggressive on the field. What you see from the coach (Ranko Popovic), it transfers to the players and they have been doing really good. It would be great to get an early goal. Last four-five games we have been getting early goals so we hope we do that.

"If you see both our games so far against Pune, they have been tough opponents. Both instances they took the lead. At home, we had to equalise. We can't take them easy tomorrow."

"We won't have any man-marking for Marcelinho or things like that. We will play our natural game. Let them worry about our players. Last match we did not have our foreign defenders so we will have a stronger one this time. So, they will also have a tough time," he quipped.

On the subject of having to play the away leg first, Moosa said, "If you look at our home and away record in the ISL, it's pretty much similar. We have won most of our away games and have only lost 2 at home. So we don't really worry about it. We've come here to play a good brand of football and try to win the match."

For the JSW Steel-owned side, the attacking duo of Miku and Sunil Chhetri have scored 24 out of the team's 35 in the regular season but the former Air India coach did not see that as a case of over-dependence.

"Of course, we depend a lot on Miku and Chhetri but it is not as if we completely rely on him (Miku). He is getting the goals so you can't help it. He is there at the right moment so he scores. Last couple of games we have played with the lone striker with Sunil coming from the left. They complement each other well. What is important is getting the goal. Who scores, we don't really go for it."

"Albert (Roca) discusses most things with me. As I am involved with the reserve side, he takes a keen interest and likes to have four-five players train with the first team. It becomes a good platform for the youngsters and the confidence level amongst them goes up. In the AFC Cup, we have been using most of the reserve side, which really helps."

"We aren't bothered about the 'favourites' tag. The expectations are always there, but we are not worried about it. As the coach always emphasizes on being humble and playing good football. Look at the results, only one draw. So, either go for a win or we lose. If we play positive football, the results will come," he concluded.