Indian Super League
ISL 2017-18: Mumbai City FC's Alexandre Guimaraes - No clarity on Super Cup yet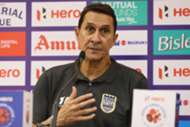 Almost every I-League club has expressed its disappointment over the Super Cup. Coaches in the Indian Super League (ISL) such as Steve Coppell and Avram Grant have openly questioned the motive and format of the competition.
No Mumbai City FC's Alexandre Guimaraes expressed surprise that he is yet to avail all the details regarding the tournament.
"Of course, we have to know the way the tournament (Super Cup) will be played - like specific dates or number of foreigners who will be allowed. Of course, I will have a meeting with my CEO (Indranil Das Blah) and owners
(Ranbir Kapoor and Bimal Parekh) to see what will be our direction for the tournament. The situations are not clear for the tournament yet," he said.
Mumbai City come into the game on the back of a 5-1 defeat at the hands of Delhi Dynamos. Guimaraes came to the defence of his players as they were clearly second best to the Delhi side in the final 25 minutes or so.
"We didn't lose our perspective in terms of playing the last game. I will use all the resources available for us to play the last game.  I will put the best players available tomorrow (Saturday) to play. We have been through a lot of situations and injuries. We have to see who are available. We will try to win tomorrow. We want to finish in the sixth place, a spot which can give us satisfaction given the circumstances," he mentioned.
The experienced coach pointed that Mumbai have been playing a good brand of football and that they always go into every game with an intention to win.
"This season, it is important that to show what Mumbai City are doing to football. I think we have earned some respect with respect to what we are doing for football in Mumbai. We have playing well.
"We always try to win all the games. We have been competing till the last week of the tournament, which is very important for the development of the organization. It is just a matter of what the club wants after we finish our games tomorrow. Then we will try to plan for the future," he said.
Mumbai started off the season well at home but lost their way but failing to capitalize on home advantage. Guimaraes shared his reasons for the club's performance not living up to the expectations.
"I think that we have many situations responsible for our problems. For us, it was a disadvantage not to have right foreigners from the very first game onward. It can hurt a team like it did to us in a competitive league like the ISL. The teams that are in the top four now are likely  to make the play-offs and they have won at least three games in a row. That sort of run, like we did last season, we could not do it this time around," he explained.