Indian Super League
ISL 2017-18: Delhi Dynamos' Miguel Portugal - Set-pieces are a problem for us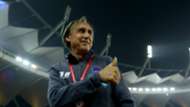 For the second consecutive game in the Indian Super League (ISL), Delhi Dynamos took the lead before allowing the opposition to pick three points.
On Saturday evening at Kochi, Kerala Blasters' spirited performance in the second half helped them to further rub salt on Delhi's miserable season.
"We played well in the first half. All these set pieces are a problem for us. When the ball is in the air, during set pieces, we had a problem," admitted coach Miguel Angel Portugal.
"Football is a collective game. It also depends on the individual's mentality. This is our problem," he added.
He reiterated that his team struggle to deal with aerial balls which resulted in Deepender Singh Negi scoring the equalizer.
"We always play the same way.  The problem is when the ball is in the air," he rued.
Delhi Dynamos next face Chennaiyin FC on 11th February at the Jawaharlal Nehru Stadium, Delhi.