Arsenal
United, Chelsea, China - Where next for Ramsey if he leaves Arsenal?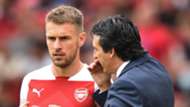 Aaron Ramsey is the latest player to become embroiled in a contract saga at Arsenal.
The Wales international, who scored match-winning goals in both the 2014 and 2017 FA Cup finals, has started five of the Gunners' six Premier League games so far this season.
However, negotiations over a new deal between Ramsey's representatives and Arsenal officials have come to a sudden halt.
Ramsey, who is presently Arsenal's longest-serving player, spoke optimistically about the Gunners' future when asked about the arrival of new coach Unai Emery during the summer: "I think it's an exciting time for the club."
However, with Arsenal now having withdrawn their contract offer, it appears that Ramsey's own future now lies away from the Emirates Stadium.
Indeed, with the midfielder's current deal set to expire at the end of the season, he could leave in the summer on a free transfer or even be sold at a knockdown price in January. 
But should he decide to depart, where would he go?
---
RAMSEY'S CONTRACT SITUATION
---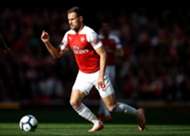 Former Arsenal manager Arsene Wenger remarked last season that Ramsey is now playing the best football of his career.
As a result, the Frenchman was determined to hold on to the midfielder, revealing that he was upbeat on the club's chances of persuading the 27-year-old to remain in north London.
"We are communicating," Wenger said. "I'm confident. We want him to stay because he is one of the guys who has been here for a long time and will be an important player in the future for the club."
Ramsey was certainly highly valued by both Wenger and the Arsenal board.
He became the Gunners' second-highest paid player behind Mesut Ozil when he extended his contract in March 2014, signing a five-year deal worth in the region of £100,000-a-week, after scoring 13 goals that season before fitness issues intervened.
Of course, Arsenal have been criticised for their mismanagement of contracts in recent seasons, with the Ozil and Alexis Sanchez sagas taking centre stage last campaign before the latter eventually departed for Manchester United in January.
Furthermore, Danny Welbeck and Petr Cech are among the present brigade who, like Ramsey, have less than 12 months remaining on their existing deals.
With Ramsey's agent David Baldwin having been rumoured to have advised his client to leave Arsenal on a free transfer next summer, it appears that the club have now made the decision to withdraw their initial offer of a renewal, which the Welshman had originally been expected to sign.
---
IS RAMSEY UNHAPPY AT ARSENAL?
---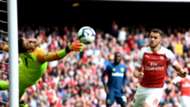 Ramsey revealed in 2015 that he was frustrated at being played out of position for Arsenal. It is no secret that he wants to play in a central midfield role, but with Ozil considered the club's biggest asset after signing a new deal in January, it always seemed unlikely that he would get his way.
He has provided more Premier League assists for Arsenal (10) since the start of last season than any other player and while his stats are impressive on the pitch, there is a feeling that the team isn't being built around him as previously expected.
So far this season, Ramsey has been starting in an advanced role, with Ozil being shifted out on the right flank and despite two assists against Everton recently, it's clear that the system is restricting the German's influence in the final third.
With Matteo Guendouzi and Lucas Torreira both arriving at the club in the summer, Ramsey has found himself competing with more players for a spot in central midfield, where it looks like Emery has found his perfect partnership between Uruguay star Torreira and Swiss midfielder Granit Xhaka.
---
WHICH CLUBS ARE INTERESTED IN RAMSEY?
---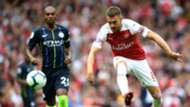 There have been several enquiries and even a £50 million offer from an unknown club for Ramsey, which was rejected by Arsenal in the summer.
The midfielder has previously talked up a move to Spain, revealing that he would "love" to play in La Liga one day, with Barcelona and Real Madrid both linked with him in the past.
"Barca play very good football and Arsenal want to do the same," Ramsey told Marca. "I've said it once: I would love to someday play in La Liga, at one of the greats. I see their league each week. It suits my style.
"Maybe I will someday, who knows what will happen in the future?"
Other interested clubs include Chelsea, who showed interest in Ramsey over the summer before signing Mateo Kovacic on loan from Real Madrid, while Manchester United are likely to be in the running to sign a player who famously rejected them to join Arsenal when he was 17.
A more left-field option could be China, where he was reportedly the subject of a "huge bid".
However, at the age of 27, it remains more likely that Ramsey will look to sign a contract with one of Europe's elite which will take him into the peak years of his career.
---
IS A JANUARY EXIT REALLY POSSIBLE?
---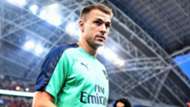 While Arsenal will miss out on the hefty transfer fee they could have received had they sold Ramsey during the summer, they could yet make good money on the midfielder by offloading him during the winter transfer window to avoid losing him for nothing when his contract expires at the end of the season.
However, Ramsey will be able to sign a pre-contract agreement with another club in January and that would certainly be the more lucrative option for the player, given those that move on a Bosman usually receive massive signing-on fees and higher wages due to the absence of a transfer fee.
Still, with Guendouzi highly rated by Emery and his coaching staff, there is the feeling that Arsenal are not short on replacements, so a January exit certainly seems possible if Ramsey's many suitors kick off a bidding war in January.