International Champions Cup
International Champions Cup to return to Singapore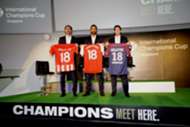 Fans in Singapore will be treated to some of the world's best teams competing with each other this July with the International Champions Cup (ICC) returning to the Asian country.
The announcement was made in presence of legends from each of the participating clubs – Robert Pirès of Arsenal, José Luis Caminero of Atlético de Madrid, and Maxwell Scherrer of Paris Saint-Germain. 
The 2018 ICC will feature 18 clubs playing around 27 matches in USA, Europe and Singapore.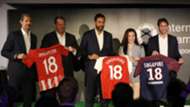 The sixth instalment of the global tournament sees Arsenal, Atletico Madrid and Paris Saint-Germain (PSG) play at the National Stadium in Singapore on 26 July, 28 July and 30 July. 
Atletico Madrid will take on Arsenal on 26 July (the teams will meet in the Europa League semifinals a bit later). The Gunners will then take on PSG on July 28 before the French champions pit their wits against Atletico on 30 July. 
While Arsenal and Atlético de Madrid played in Singapore in 2015 and 2013 respectively, PSG are appearing in the country for the first time. 
The competition also sees a format change this year with one global champion to win it rather than individual champions for every continent like the previous editions.