India
Indian Football: Subrata Paul suspension revoked by NADA, AIFF and team doctor reprimanded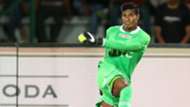 India international goalkeeper Subrata Paul escaped with a warning from the National Anti-Doping Agency (NADA), with his provisional suspension being revoked with immediate effect on Wednesday.

I-League: AIFF League Committee stalls decision on number of foreign players

The 30-year-old failed a doping test conducted on him 18th March earlier this year. His urine dope sample reported positive by the National Dope Testing Laboratory (NDTL) for the presence of Terbutaline (Beta-2-Agonist), a prohibited substance.

He was immediately put on provisional suspension as Paul then waived off for his 'B' sample analysis. The Anti Doping Disciplinary Panel (ADDP) conducted hearings on 31st May and 12th June and revealed their decision on Wednesday.

"In this case, the anti-doping rule violation involves a specified substance and the athlete was able to prove that the dope violation was not intentional. Under article 10.5.1.1 of the NADA code wherein a provision for no significant fault or negligence is available, Subrata Paul has been reprimanded for anti doping rule violation although no period of ineligibility has been imposed upon him. His suspension stands revoked with immediate effect," the NADA release stated.

Indian Super League: Atletico de Kolkata announce retained players

However, the national team doctor and the parent body of Indian football, All India Football Federation (AIFF) admonished for the lapse of judgement by the NADA.

"The Anti Doping Disciplinary Panel has also warned the All India Football Federation for negligence as it has failed to provide guidelines to be followed by team doctor appointed by them. It is a strict liability of the federation to take absolute precaution for prohibited substances in any form either in medicines or dietary/nutritional supplements."

The team doctor now faces wrath from the AIFF after NADA stressed has suggested strict action against him. " The doctor during his appearance before the panel had admitted in writing that he failed to take due care in prescribing the medicine to the athlete which led to his ingestion of prohibited substance. The federation has been directed to take necessary action against the team doctor," stated the release.

Indian Super League 2017: Bengaluru FC sign Erik Paartalu, retain Juanan and Johnson

The Arjuna Awardee can now breath a sigh of relief after averting a career-shaming error. He was contracted to DSK Shivajians in the I-League and NorthEast United in the Indian Super League. The John Abraham owned franchise are yet to announce their list of retained players but sources close to Goal confirm that Paul is not in their scheme of plans. 

The former FC Vestsjaelland 'keeper looks increasingly likely to go into the ISL player draft on 23rd July. There is a great chance of him being picked up by the new Tata Steel team from Jamshedpur, which will reunite him with his footballing alma mater, the Tata Football Academy.