I-League
Indian Football Quiz: Ten questions about Bengaluru FC and India striker Sunil Chhetri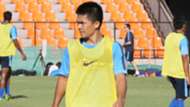 This is the first edition of Indian Football Quiz - a weekly feature where we ask you 10 questions about domestic football. The 10 questions will be of three categories: the first three will be giveaways, 4-6 will be tougher but very much crackable while the last four are can only be answered by the sincere followers of Indian football. This first edition is on the current Bengaluru FC and Indian national team skipper Sunil Chhetri.

QUESTIONS
BY ATANU MITRA (@Atanu00 on Twitter)
 
1) Sunil has represented seven clubs in the combined history of National Football League and I-League. If six of them are Mohun Bagan, East Bengal, JCT, Dempo, Churchill Brothers and Bengaluru FC, name the seventh outfit.
A) Viva Kerala B) Sporting Clube de Goa C) Chirag United D) Salgaocar
 
2) Which current Tottenham Hotspur footballer was Sunil's teammate at Sporting CB in Portugal?
A) Danny Rose B) Eric Dier C) Victor Wanyama D) Harry Winks
 
Yahoo in Yango: Takeaway's from India's win

3) One of his best performances in the national colours came in the AFC Challenge Cup final in 2008. Who were India's opponents in the match?
A) Tajikistan B) Turkmenistan C) Uzbekistan D) Syria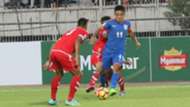 4) Sunil had represented India in a competition in Malaysia back in 2001, where he scored a brace against Vietnam (India won 2-1) and once each against China (India lost 5-2) and Indonesia (India drew 1-1). Name the tournament.
A) Asian Scout's Championship B) Asian Schools' Championship C) U-16 AFC Asian Cup D) Commonwealth Youth Championship
 
Bhaichung to be offered AIFF role

5) Name the Delhi-based club he used to play for before he was roped in by Mohun Bagan?
A) Delhi United Football Club B) Hindustan Football Club C) City FC D) Heroes FC
 
6) He has scored only once in the Kolkata derby, even though he has played almost five seasons for the two Kolkata giants. Who scored the other two goals for East Bengal when they defeated Mohun Bagan 3-0 on 22nd February, 2009 with Sunil scoring the third? 
A) Mehtab Hossain B) Renedy Singh C) Bhaichung Bhutia D) Syed Rahim Nabi
 
7) Sunil has scored two hat-tricks for the national team. The first one was in 2008 as mentioned in question number 3. Who were India's opponents when he scored a hat-trick at Pune in 2010?
A) Nepal B) Vietnam C) Oman D) Maldives
 
8) Sunil's first goal in Mohun Bagan colours came in a Calcutta Football League game back in August 2002, an injury time winner in a 2-1 victory against X. The team X were never a big power in Indian football, but remained a force to reckon with since it managed to sign a number of big names by offering lucrative government jobs. Give me X.
A) Food Corportation of India B) Life Insurance Corporation C) Port Trust D) Eastern Railway FC
 
Stack speaks up on India experience

9) The Bengaluru FC skipper's first ever National Football League goal came against X in March 2003. X has remained his favourite opponent as he has scored 11 times against them in the national league, the highest tally against a single side. Name X.
A) East Bengal B) Salgaocar C) Mahindra United D) Churchill Brothers
 
10) On 5th May, 2005 Chhetri scored his first hat-trick in national level club competitions as Mohun Bagan defeated Tollygunge Agragami 4-0 in a National Football League tie. Who opened the scoring for the Mariners, who also happens to be the youngest ever goal-scorer of the national football team?
A) Bhaichung Bhutia B) Jerry Zirsanga C) Jo Paul Ancheri D) Dipendu Biswas
 
Aizawl won't be part of new league
Answers:
 
1) Chirag United (now known as United Sports Club)
2) Eric Dier
 
3) Tajikistan
 
4) Asian Schools' Championship
 
5) City Club
 
6) Syed Rahim Nabi
 
7) Vietnam
 
8) Food Corporation of India (FCI)
 
9) Churchill Brothers
 
10) Jerry Zirsanga