I-League
Indian Football: Mohun Bagan ready to work with IMG-Reliance on ISL participation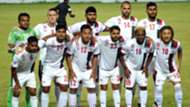 2014-15 I-League champions Mohun Bagan have confirmed that they received a contract offer from IMG-Reliance with regards to participating in the lucrative Indian Super League as part of a revamp of the Indian domestic football structure. 
But, the Kolkata-based club are not pleased with the initial terms in the offer but have indicated they ar willing to re-negotiate with IMG-Reliance. 
"Since the going away of Mcdowell's in the mid-season 3 years back, we (Mohun Bagan) were frantically looking for partners.  We had also approached IMG-Reliance and various rounds of discussions had taken place. The prospect of playing in ISL was also discussed. IMG-Reliance had also come up with lot of options and ideas.  During all levels of discussion we had always said amongst various other things that the Logo, Jersey colours and most importantly the name of our beloved club cannot be changed at any cost.
"But to our surprise when we have received the Draft agreement, none of the points was incorporated or mentioned.  But we still believe that all disputes can be resolved through meaningful dialogue and discussions," a club statement read. 
Though not pleased with the initial offer, The Mariners are open to the idea of playing in the ISL as IMG-Reliance hope to turn the three-season-old league into India's premier footballing tournament. 
Mohun Bagan president Swapan Sadhan Bose said, "I strongly feel that Mohun Bagan should explore all possible avenues to ensure that the team plays in the highest level football tournament in the Country because Indian Football can never be complete without Mohun Bagan." 
On the other hand, East Bengal and Mohun Bagan officials had a meeting with AIFF vice-president Subrata Dutta and IFA secretary Utpal Ganguly to express their grievances about the draft contract. The officials, though, decided not to speak to the media after the meeting at the Bengal club