I-League
Indian Football: AIFF keen to open FIFA Medical Centre of Excellence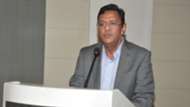 The All India Football Federation (AIFF) have begun doing groundwork in order to open a Federation International de Football Association (FIFA) Medical Centre of Excellence in India.
FIFA created a network of Medical Centres of Excellence in order to ensure that players are aware of who the experts are in the field of football medicine. Not only would aid in diagnosis and rehabilitation from injuries, these institutes would also educate them on nutrition, prevention of injuries and also lay down specific training techniques.
Kushal Das, the AIFF general secretary, confirmed that the Indian FA are already in talks to open at least two such centres in India.
Manchester United monitoring Arsenal duo Alex Oxlade-Chamberlain and Mesut Ozil
"The idea is to help players. This will be a knowledge centre for football medicine so that the players know where to go when they get injured," said Das.
When asked if the players would be offered any discounts per say, Das mentioned, "Those specifics will be worked out at a later stage. However, the talks to open these centres in India have begun."