Manchester United
'If only Man Utd had a decent keeper!' - De Gea slated after howler against Arsenal
12:59 AM GMT+4
06/12/2018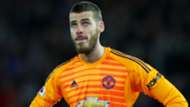 After a stellar season in 2017-18, it hasn't been the greatest few months for David de Gea. 
First the goalkeeper had as sub-par World Cup as Spain were shockingly eliminated at the last-16 stage by Russia. 
De Gea's patchy form has continued into the Premier League season, with the Manchester United goalkeeper struggling to display the same consistency that he did last term. 
The latest blight on De Gea's record came in Wednesday's Premier League match against Arsenal at Old Trafford. 
De Gea failed to hold Shkodran Mustafi's header from a corner kick, instead awkwardly pushing the ball over his head and just over the line for the game's opening goal 26 minutes in. 
It was an awful goal to concede for the struggling Red Devils, and social media began to light up immediately after the howler. 
If only @ManUtd had a decent keeper they'd be flying.

— Gary Lineker (@GaryLineker) December 5, 2018
9 - Manchester United have now conceded as many goals at Old Trafford in the Premier League this season (nine goals in seven games) as they did in the whole of 2017-18 (nine in 18 games). Porous. pic.twitter.com/6LpPUd9ebY

— OptaJoe (@OptaJoe) December 5, 2018
David de Gea has kept just two clean sheets in 15 Premier League games so far this season.

He won the Golden Glove last season. 🙃 pic.twitter.com/lPhVFnIyQB

— Squawka Football (@Squawka) December 5, 2018
Jordan Pickford: "No one will make a mistake as bad as mine for a while"

David De Gea: "Hold My beer" pic.twitter.com/DFN9e9Kp5a

— ODDSbible (@ODDSbible) December 5, 2018
De Gea being exposed as a fraud against Unai's Gunners. Tears in my eyes

— Frankie Hobbs (@Frankie_Hobbs) December 5, 2018
De Gea not quite as good a' Kepa now is he 🧐

— George Benson (@MrGeorgeBenson) December 5, 2018
David De Gea right now...#MUNARS pic.twitter.com/WNWmjtgfOf

— Goal (@goal) December 5, 2018
DE GEA TRIED TO EXAGGERATE THAT SAVE AND ENDED UP PUTTING IT OVER THE LINE IM DEADDDDD

— Yousef (@ItsAlIByDesign) December 5, 2018
De Gea with a touch of the Pickfords.

— Sport Witness (@Sport_Witness) December 5, 2018
De Gea lmaoooo, Spanish Scott Carson

— Brad (@BradSimms99) December 5, 2018
Somewhere, Arsene Wenger is thinking: De Gea never let those in when I was boss.

— Mattias Karén (@MattiasKaren) December 5, 2018
De Gea's hard drive is full. It can't save again 😂😂😂😂😂😂😂😂

— 👑 DaddyMO 👑 🚀♠️ (@officialdaddymo) December 5, 2018
De Gea was likely the most relieved person at Old Trafford just four minutes later, when Anthony Martial equalised for United to make it 1-1. ​
And the Spain goalkeeper did partially make amends in the second half, as he made a number of good saves in an eventual 2-2 draw.