World Cup
Ibrahimovic: Pogba's time to shine alongside Messi & Ronaldo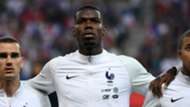 Zlatan Ibrahimovic is backing former Manchester United team-mate Paul Pogba to light up the 2018 World Cup alongside stars such as Lionel Messi and Cristiano Ronaldo.
The 25-year-old has not enjoyed the easiest of build ups to an international showpiece in Russia, with his club form having faced criticism throughout the 2017-18 campaign.
Pogba has since been jeered by his own supporters during a pre-tournament friendly clash with Italy, with debate raging within his native France as to whether or not he should be a World Cup starter.
Ibrahimovic believes the all-action midfielder is capable of not only starting but starring, with Kylian Mbappe another member of an exciting Les Bleus squad ready to take a global gathering by storm.
The enigmatic Swede told FIFA's website when asked to pick out players capable of making a major impact this summer: "I think Pogba for sure, who everybody knows is fast and skilful.
"Mbappe, an upcoming star who still has more to give to get to the top, but he will for sure arrive there…there are so many players who are exciting at the moment that for sure some other star that nobody has been talking about will dominate."
While looking for Pogba and Mbappe to prove their worth, Ibrahimovic acknowledges that the stage is also set for the world's best to put in talismanic performances for their respective nations.
He added: "Remember it's not an individual game we are playing, but a team game.
"I think Neymar, after being injured and coming back, will have a lot of hunger to play and will lift his team and they will push for him.
"I think with Messi, the picture is normal: he is the best and the team follows him. Ronaldo, the same thing. Let's see what happens.
"It's a long season. Players have been playing for 10 or 11 months and now this is the final stage. Let's see who is physically and mentally 100 per cent. Those things are very decisive. It doesn't matter how skilful you are if you are not 100 per cent healthy."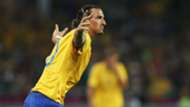 There will be plenty of superstars on show to entertain a global audience this summer, but Ibrahimovic will not be among them after eventually taking the decision not to come out of international retirement with Sweden.
He admits that he was never truly close to returning to the fold, but maintains that Russia 2018 will not be the same without him.
The 36-year-old frontman added: "It was clear that I was not going to be in the national team playing, but like I said four years ago and I say it again now: the FIFA World Cup without me is not worth watching! I really mean that.
"But it is now possible that I will be present anyway, and I will enjoy the World Cup from close up."