Portugal v Spain
I would not trade anyone on Spain for Ronaldo - Hierro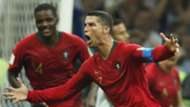 Spain manager Fernando Hierro praised Cristiano Ronaldo after the Portugal star's hat-trick against his side, but would not take him over anyone on his squad.
Ronaldo delivered a stunning performance in the Group B match, scoring a brilliantly struck free-kick in the late stages to snatch Portugal a point in a thrilling 3-3 opener with their Iberian rivals.
The goal followed Ronaldo winning a penalty kick in the early stages and then converting it to give Portugal an 1-0 lead and the Real Madrid star scoring again putting his side back in front thanks to a David de Gea howler late in the first half.
Ronaldo's heroics allowed Portugal to overcome a pair of Diego Costa equalisers and a brilliantly struck Nacho goal from distance that gave Spain a second half 3-2 advantage.
Though the late goal snatched victory away from Hierro in his Spain head coaching bow, coming days after he was appointed following Julen Lopetegui sacking, Hierro said he would not trade any of his current players for the Portugal superstar.
"When you have a player like Ronaldo, it is extremely fortunate for whichever team has him," Hierro said at his post-match news conference. "I have a really good relationship with Ronaldo, but I certainly would not change him for any of the players in my squad."
Meanwhile, Portugal boss Fernando Santos confessed he had run out of superlatives for his star man, declaring him the world's best.
However, on the heels of Ronaldo becoming the fourth player to score at four World Cups, Santos spoke of his hope that he can make it five in 2022.
"I keep talking about Cristiano but what more can I say?" Santos said. "He's the best in the world.
"I hope that he keeps scoring and if he's there in Qatar, I hope he scores again."