World Cup
'I try to overcome pressure' - Nigeria's Uzoho unruffled despite burden of expectations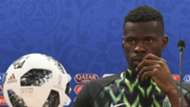 Francis Uzoho knows what is expected of him and as such will not be dazed by the pressure of being Nigeria's first choice goalkeeper.
Since making his international debut in Nigeria's 4-2 victory over Argentina in November 2017, the Deportivo La Coruna man has put Ikechukwu Ezenwa and Daniel Akpeyi in the shade to be Gernot Rohr's most preferred choice in goal.
His first real baptism came against Croatia where he conceded two goals. However, he is not weighed down despite the burden attached to his role in the Super Eagles.
"I don't let the history get to me, I try to overcome the pressure because I know Nigeria has produced goalkeepers," he told media.
"I know what they expect from the goalkeepers and I try not to think about it for now, so it won't get to me."
Nigeria face Iceland in Friday's make or break clash and the youngster admitted that the game would be tough but his team would do all it takes to secure victory.
"We work very hard every day in training and as a team we plan, but I can't disclose them [the plans]. We work as a team to do something in our game against them," he continued.
"On my own side it's very important for both, it's going to be difficult. It'll be a nice game to play and watch.
"We are known for offensive football, I don't know them, but I think we'll try our best to win and let's see what happens after the game."