Arsenal
'I think he will continue' - Perez plays down Wenger rumours and his own transfer speculation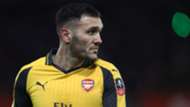 Lucas Perez is confident both he and Arsene Wenger will still be at Arsenal for the 2017-18 campaign.
Dark clouds of uncertainty continue to hang heavy over the Emirates Stadium, with various issues in north London that are yet to be resolved.
Much sought-after contract extensions are yet to be agreed with key men Alexis Sanchez and Mesut Ozil, while talk of fresh terms for Wenger is irritating certain sections of a disgruntled fan base.
'Arsenal need more players like Alexis'
Protests against the Frenchman's reign have now been carried out at home and away games, with the action taken in the street and the sky.
Wenger, though, has offered little to suggest that he will be vacating his post at the end of his current deal, and Spanish striker Perez is the latest to suggest that the long-serving manager will stay on.
He told Marca: "The relationship I have with Wenger is good and I think he will continue, but he has not yet communicated it to anyone.
"He is a normal person, very accessible, humble. Wenger knows all the people who work at the club and is always willing to help them."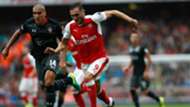 While serious questions are being asked of Wenger's future with the Gunners, Perez has faced similar probing regarding his own stay in north London.
The 28-year-old moved to Arsenal in a £17.1 million deal in the summer of 2016, but regular game time has proved hard to come by in a system which includes only one central striker.
He has made just two Premier League starts to date, but his value has been highlighted in a seven-goal return which averages out at one every 119 minutes.
'Wenger out' crusade goes global
Perez believes he still has plenty to offer the collective cause and has sought to curb any suggestion that he could be tempted to quit English football after just 12 months.
He added: "I had the bad luck to get injured in the first few months and that affected me but today I feel very capable of showing why they signed me.
"I am trying to take the chances they give until they have 100 per cent confidence in me. The manager is happy that I am in the squad because whenever I play I have done well."