I-League
I-League 2017-18: Luis Norton satisfied with Indian Arrows' season
Kolkata giants Mohun Bagan take on Indian Arrows in an I-League encounter on Tuesday in Goa. The Green and Maroons will be playing their 16th match of the season while the Arrows will be playing their last league game. 
Mathematically, Mohun Bagan are still in the title race but their coach Sankarlal Chakraborty knows exactly how tough it will be for his team to win the league this year.
"Look at some of the big teams in the world like Real Madrid, Manchester United. They are all out of title race. They are playing for pride. The same is with us. Also, the Super Cup is there."
Chakraborty continued, "We are playing good football in the last couple of matches but unfortunately, we are not getting the results. Look at our last game (against NEROCA FC). We were two goals down but fought back and won the game."
He whole-heartedly praised Indian Arrows coach Luis Norton de Matos for the work he has done with the youngsters. "Luis Norton De Matos has done excellent work with the Arrows team. In the initial stage the Arrows team were playing counter-attack football but now they are playing open football, this change in style proves that the quality and talent have improved. To change to a different style in just two months shows that great work put in by Indian Arrows coach," said Sankarlal.
He further mentioned that the match against Arrows will not be an easy affair. The Kolkata side were held to a 1-1 draw at home in the first leg.
Sankarlal said, "It will not be an easy match as the Arrows will get on the pitch with a free mind as they have nothing to lose whereas for us the only option is to win. We are prepared for tomorrow's (Tuesday) match and will give our best to win and keep our away record intact."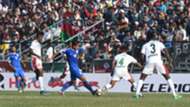 Indian Arrows' Portuguese coach Luis Norton de Matos mentioned that they are still not aware of the Super Cup schedule and he was worried about the fact that after March, the team will not get to play enough until September.
Matos said, "We don't know yet about the schedule of the Super Cup. If we start on 12th of March the boys get 8 days rest. We get to play till March 31st. After that, I don't know if there are any more tournaments. Because if there isn't anything else there are no competitions until September and October. It is important to play matches. I heard there are some tournaments for these boys in May or June."
When asked about his team's overall performance in I-League this season, the coach praised his boys for fighting hard against tough opponents.
He said, "When I analyse this season, I am satisfied with the performances of the Indian Arrows players. They have got 15 points in the league. I think it's a record that a team with players whose average age is 16 are competing in a professional league and getting 15 points and matching their opponents in quality. I am very proud of the players. The principal focus was to develop the players. It was a very good decision from AIFF (All India Football Federation) to put us at this level. The progress is evident."