I-League
I-League: East Bengal's Khalid Jamil hopeful of winning the title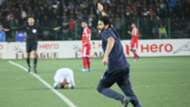 Minerva FC have won four of their last five home matches in the I-League this season. East Bengal are hoping to inflict the Punjab side their first defeat on home soil as they look to close the gap at the top of the I-League table.
Coach Khalid Jamil pointed that Minerva are enjoying a good run of form at home and that his side needs to be in a positive frame of mind going into the tie.
"They are playing very good especially in their home matches. They have a 100 per cent (unbeaten) record and so this match will not be easy but still there is long way to go. Upcoming fixtures are important too.
"Yes, 100 per cent (on East Bengal's chances to win the title). We must think positive and must get positive results," he mentioned.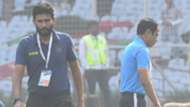 The Red and Gold brigade were the favourites to win the I-League this season however, minnows Minerva enjoy a six-point lead over the Kolkata side.
"This is football. We cannot take any team lightly. Everyone plays football with full heart and ultimately results count. No doubt they are ahead but now this time we should go ahead," he opined.
Jamil said that his team needs to get a good start on Tuesday as they ought to put Minerva on the back-foot.
"They are scoring goals and that is the main thing. I never think too much of the past games. Whatever has happened has happened. We think about our next game. Minerva now are at the top and if we need to beat them we need to give everything. We have to be alert, have a good start and keep it up till the 90 minutes," he stated.
The club chose to release Cote d'Ivoire defensive midfielder Armand Bazie and Jamil was asked to share his thoughts on the same.
"We will see it tomorrow itself. If we win tomorrow then losing him was a good decision."