I-League
I-League: Bengaluru FC's Albert Roca - I don't want to talk about title chances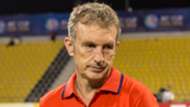 Bengaluru FC suffered a 3-1 mauling at the hands of East Bengal at the Kanteerava Stadium, Bangalore on Saturday evening as their hopes of defending their I-League crown went up in the air.
The club's CEO Parth Jindal took to Twitter to state that the tie against the Kolkata giants was a must-win situation for his side. However, The Blues couldn't rise up to the challenge as they were defeated for the second time this season by The Red and Gold outfit.
"The dynamics surrounding this match is so bad. We had expectations to go for a win from the first minute. We tried and it was not good. There remains a lot of doubt from the results and only results give you confidence. It's never easy when you play with an experienced team (East Bengal).
Pedro proving he's on the same level as Costa and Hazard at Chelsea
"We played better in the second half. We had opportunities to get back but the second goal really killed us. The team kept on fighting in spite of that," said coach Albert Roca in his post-match address.
Jindal apologised to the fans assembled at the Kanteerava Stadium for the disappointing performance in a game of massive importance.
"I am really sad for the fans. They came here hoping for a win and they have encouraged the team and the team also tried to do their best. But at the moment, we are not so paced to play as we like from the first minute," said Roca.
The Spaniard started with a three-man defensive line before opting to shift to a four-man defense. Roca explained that tactics alone do not determine a result.
"You can say it was a tactical mistake. We played with two strikers and that was the right thing. It became a mistake as things changed after the first goal. It balanced out later but I am not so sure that tactics is the most important aspect in that part of the game. Tactics is how you go into the field and I fielded a team that was confident enough to win the game but it is a shame.
"We are working hard and trying to change things after all those draws. East Bengal punished us at the worst moment when the team was looking to go up again but again, that is football," he reasoned.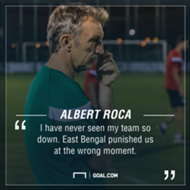 With this defeat, Bengaluru FC's hopes of winning their third I-League title have waned.
Chelsea too strong for Jordan Ayew's Swansea
"I don't want to talk about title chances, I want to fight. Only a few games remain but our intention is to fight every single game. Nobody likes this and nobody expected this at the beginning of the season. We have to take up a collective responsibility now. Maybe we could have won today as we were unlucky in converting chances early. The fans deserve to see us put a fight nd I have never seen my team so down," he opined.
The game ended with players from the two teams involved in a heated tussle. Roca was asked to speak about the fight at the end of the game.
"I don't want to talk too much about this. We have to be more respectful when we play teams like East Bengal. Every team wants to win but you have to play out till the last whistle is blown. You have to show the sensitivity both when you are losing and winning," he signed off.