I-League
I-League 2018-19: When does it start, fixture schedule & how to watch
10:07 AM GMT+4
25/10/2018
The 2018-19 edition of the I-League is all set to get underway on Friday with Chennai City FC taking on the Indian Arrows in the opener.
11 teams will battle it out for the crown of India's best with the 12th edition of the league promising to be another intriguing affair.
The season is set to run for five months or so with the final round of matches to take place in March next year.
Below, Goal lists all the necessary information ahead of the new season including the complete fixture schedule and how to watch it.
---
When does the I-League start?
---
The new I-League campaign gets underway at the Nehru Stadium in Coimbatore with Chennai City hosting All India Football Federation's (AIFF) developmental side Indian Arrows in a 17:00 IST kick off on Friday, October 26.
Unlike the Indian Super League (ISL), the coming edition of the I-League will not pause for any international breaks including the duration of the 2019 AFC (Asian Football Confederation) Asian Cup in which India is due to take part.
 
---
Which I-League games will be played on the opening game week?
---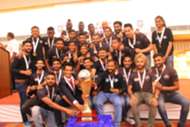 | Date | Fixture | Time (IST) | Venue |
| --- | --- | --- | --- |
| October 26 | Chennai City v Indian Arrows | 5.00 pm | Nehru Stadium, Coimbatore |
| October 27 | NEROCA FC v East Bengal | 2:00 pm | Khuman Lampak Stadium, Imphal |
| October 27 | Gokulam FC v Mohun Bagan | 5:00 pm | EMS Corporation Stadium, Calicut |
| October 28 | Minerva Punjav v Churchill Brothers | 2:00 pm | Tau Devi Lal Stadium, Panchkula |
| October 28 | Shillong Lajong v Aizawl FC | 5.00 pm | Jawaharlal Nehru Stadium, Shillong |
The opening day of the league will feature a sole fixture as Chennai City FC lock horns with Indian Arrows at Coimbatore.
Kolkata giants East Bengal and Mohun Bagan will then be in action on Saturday, October 27. While East Bengal travel to Imphal to take on last season's runner-up NEROCA FC, Mohun Bagan will make the journey to Kerala to take on Gokulam Kerala FC.
Reigning champions Minerva FC will be in action on Sunday as they play host to Goan outfit Churchill Brothers before an all-North East clash between Shillong Lajong and Aizawl FC on the same day.
---
How can I watch I-League games on TV?
---
Star Sports have the rights to the I-League in India this season as well and will be broadcasting games on their network of channels as well as their online streaming platform - Hotstar. 
| India TV channel | India online stream |
| --- | --- |
| Star Sports 3 | Hotstar |
A list of every I-League fixture for the first half of the season (until the end of 2018) is given below.
| Date | Fixture | Time (IST) |
| --- | --- | --- |
| October 26, 2018 | Chennai City v Indian Arrows | 5:00 pm |
| October 27, 2018 | NEROCA FC v East Bengal | 2:00 pm |
| October 27, 2018 | Gokulam FC v Mohun Bagan | 5.00 pm |
| October 28, 2018 | Minerva Punjab v Churchill Brothers | 2:00 pm |
| October 28, 2018 | Shillong Lajong v Aizawl FC | 5:00 pm |
| October 31, 2018 | NEROCA v Gokulam | 2:00 pm |
| October 31, 2018 | Minerva Punjab v Real Kashmir | 2:00 pm |
| November 1, 2018 | Shillong Lajong v East Bengal | 2:00 pm |
| November 1, 2018 | Chennai City v Churchill Brothers | 5:00 pm |
| November 3, 2018 | Mohun Bagan v Aizawl | 5:00 pm |
| November 4, 2018 | Gokulam FC v Chennai City | 5:00 pm |
| November 5, 2018 | Indian Arrows v Shillong Lajong | 5:00 pm |
| November 6, 2018 | Real Kashmir v Churchill Brothers | 5:00 pm |
| November 7, 2018 | Aizawl v NEROCA | 5:00 pm |
| November 10, 2018 | Aizawl v Minerva Punjab | 2:00 pm |
| November 10, 2018 | Indian Arrows v Mohun Bagan | 5:00 pm |
| November 11, 2018 | Real Kashmir v NEROCA | 2:00 pm |
| November 11, 2018 | Gokulam FC v Shillong Lajong | 5:00 pm |
| November 13, 2018 | East Bengal v Chennai City | 5:00 pm |
| November 15, 2018 | Churchill Brothers v Shillong Lajong | 5:00 pm |
| November 16, 2018 | Aizawl v Chennai City | 2:00 pm |
| November 18, 2018 | Gokulam v Minerva Punjab | 7:30 pm |
| November 20, 2018 | Real Kashmir v Mohun Bagan | 2:00 pm |
| November 23, 2018 | Shillong Lajong v MInerva Punjab | 5:00 pm |
| November 24, 2018 | Aizawl v East Bengal | 2:00 pm |
| November 24, 2018 | Chennai City v NEROCA | 5:00 pm |
| November 25, 2018 | Real Kashmir v Indian Arrows | 2:00 pm |
| November 25, 2018 | Mohun Bagan v Churchill Brothers | 5:00 pm |
| November 30, 2018 | Gokulam v Churchill Brothers | 5:00 pm |
| December 1, 2018 | Minerva Punjab v Indian Arrows | 2:00 pm |
| December 1, 2018 | Mohun Bagan v Chennai City | 5:00 pm |
| December 2, 2018 | Shillong Lajong v NEROCA | 5:00 pm |
| December 4, 2018 | East Bengal v Minerva Punjab | 5:00 pm |
| December 5, 2018 | Real Kashmir | 2:00 pm |
| December 7, 2018 | NEROCA v Indian Arrows | 2:00 pm |
| December 8, 2018 | East Bengal v Gokulam | 5:00 pm |
| December 9, 2018 | Churchill Brothers v Aizawl | 5:00 pm |
| December 11, 2018 | Real Kashmir v Shillong Lajong | 2:00 pm |
| December 14, 2018 | Indian Arrows v Aizawl | 5:00 pm |
| December 15, 2018 | NEROCA v Churchill Brothers | 2:00 pm |
| December 15, 2018 | Gokulam v Real Kashmir | 5:00 pm |
| December 16, 2018 | Minerva Punjab v Chennai City | 2:00 pm |
| December 16, 2018 | East Bengal v Mohun Bagan | 5:00 pm |
| December 19, 2018 | Minerva Punjab v Mohun Bagan | 2:00 pm |
| December 20, 2018 | Churchill Brothers v East Bengal | 5:00 pm |
| December 21, 2018 | Indian Arrows v Gokulam | 5:00 pm |
| December 22, 2018 | Chennai City v Real Kashmir | 7:30 pm |
| December 23, 2018 | NEROCA v Minerva Punjab | 2:00 pm |
| December 23, 2018 | Mohun Bagan v Shillong Lajong | 5:00 pm |
| December 28, 2018 | NEROCA v Mohun Bagan | 2:00 pm |
| December 28, 2018 | East Bengal v Real Kashmir | 5:00 pm |
| December 29, 2018 | Aizawl v Gokulam | 2:00 pm |
| December 29, 2018 | Chennai City v Shillong Lajong | 5:00 pm |
| December 30, 2018 | Indian Arrows v Churchill Brothers | 5:00pm |