Real Kashmir v Mohun Bagan
I-League 2018-19: Mohun Bagan take their chances while Real Kashmir falter in the attacking third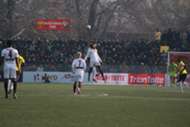 Mohun Bagan were struggling to get a foothold of the match for the lion's share of the first half. Real Kashmir were doing a fine job in restricting the twin threats of Aser Dipanda and Henry Kisekka which meant Bagan had no teeth in the attacking third. 
Coach Sankar Lal Chakraborty adopted a long ball strategy with two target-men up front but Mason Robertson and Loveday Okechukwu were winning the aerial battles with ease, given their physical superiority. Bagan's wings were also clipped as David Robertson made sure to place his wide midfielders in an advanced position to keep a check on the overlapping runs of Arijit Bagui and Abhishek Ambekar. 
Chakraborty had to think out of the box and the coach did not disappoint. When he found that his primary tactic in attack was thwarted, he directed his midfielders to play on the ground and utilise the space in between the defence and midfield of the opposition. Dipanda and Kisekka were asked play from a deeper position to shrug off their markers and the duo started moving up and down in tandem which asked questions of Kashmir's tight backline.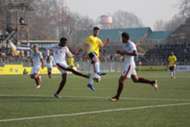 Around the 40th minute, Bagan could have got their opener when Pintu Mahata produced a delightful through ball from midfield to find Omar Elhusseiny who instead played it wide to Dipanda. On most occasions, the Cameroonian would have put in a cross as is his coach's preference. But this time, he squared it low into the box and if Bilal Khan had not come out of his line to punch it out, it would have fallen for Kisekka. 
Bagan continued to play on the ground weaving two-to-three passes before reaching Kashmir's defensive third and looked far more threatening.
"We recognised some gaps and in the second half, we tried to utilise those. Dicka and Henry repeatedly came down to get hold of the loose balls and we created two goal-scoring chances," said Chakraborty after bagging three important points.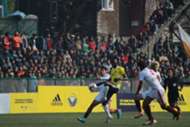 The free roles assigned to Kisekka and Dipanda did the trick for Bagan when they scored the solitary goal of the match. Kisekka had shifted to wide to the left flank to bring a long goal-kick under control. He drew in Robertson along with him and a quick give-and-go with Sourav Das allowed him to carve out some space to deliver a cross. Dharmaraj Ravanan's half-hearted challenge was not enough to prevent the Ugandan from delivering an inch-perfect cross for Dipanda who positioned himself in between Okechukwu and Abhash Thapa to head it home. It was an example of shambolic defending from Kashmir as Dipanda got a free header in spite of two yellow shirts in close proximity.
Though Bagan were forced to change their crossing tactics, their goal stemmed finally from a cross. 
"I told before the game that we cannot allow them to pour crosses and they managed to put two crosses and scored with one. And you can't leave a number 9 (Dipanda) unmarked. He didn't do much in the game but he scored," said a dejected David Robertson in the post-match press conference.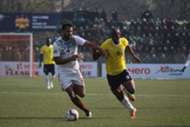 Real Kashmir faltered repeatedly in the attacking third courtesy of some excellent defending by I-League debutant Dalraj Singh and club skipper Eze Kingsley. It was another tactical move by Chakraborty to hand Dalraj a start ahead of Lalchhawnkima as the former Peerless SC defender was more suited to win physical battles against Gnohere Krizo.
Singh followed the Ivorian like a shadow throughout the match and more often than not had the last laugh. Krizo's tendency to do all by himself made things easier for Bagan defenders even when he had support in the likes of Danish Farooq and Bazie Armand.
With two back-to-back defeats, the Snow Leopards must pull up their socks when they face Indian Arrows on Sunday. They will have the physical advantage over the young boys but a lack of combination in the attacking third might hurt them once again.