NEROCA v East Bengal
I-League 2018-19: East Bengal's Alejandro Menendez - East Bengal can improve a lot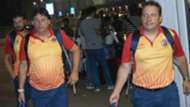 East Bengal got off to a winning start in the I-League 2018-19 season as they defeated NEROCA FC 2-0 at the Khuman Lampak Main Stadium, Manipur, on Saturday.
Mexican forward Enrique Esqueda scored in each half to give the Red and Golds all three points and head coach Alejandro Menendez expressed his delight.
"I am really happy with the performance. We have a very good team. We took our chances and I am happy. We are very satisfied because we know it is difficult to pick a win here," said the Spaniard.
"Our defence played well because our team played well. All the players put in their best and that made it easier for the defenders. NEROCA showed good intensity as they moved the ball fast. They have good players. The teams that come here must play with the same intensity otherwise it will be difficult to win," he added.
The East Bengal gaffer attributed his side's win to the work that's gone into their preparations but believes that there is still ground to cover.
"Today we started well. We are able to produce on the pitch that we have been practising in the past 5-6 weeks and it will be a confidence booster for our next match. It doesn't matter where we play. 
"At this moment we are just at 40 per cent of our capabilities. In two months time, we will be much better. We worked for only 5-6 weeks but we need some more time to improve. 
We need to improve our ball possession, our counter attacks and some aspects of our defensive play," Menendez observed.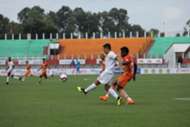 Manuel Retamero, the coach of NEROCA, has meanwhile stressed that his team needs to maintain more focus while playing against big teams like East Bengal.
"We played against a big club and we made mistakes. They have a very good striker (Esqueda) and he enjoyed our mistakes especially the first one. We must have more focus," he continued. 
"I am happy about my team as we tried a lot. We missed opportunities. I am not worried because this was the first match. We must move around the ball faster. Obviously, when you are against a world cup playing defender (Johnny Acosta) things will be tough. He was their go-to man. We created half-chances but were not good enough. We have to stick to our plan and hopefully, we can do better. "
Giving an update on Katsumi Yusa's injury, he said, "At the moment we don't know. We felt pain in his right knee. Can't confirm about the nature of his injury."