I-League
I-League 2018-19: Gokulam's Bino George - The team is adapting to my style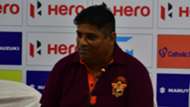 Gokulam Kerala FC kicked-off their second season of I-League with a 1-1 draw against Mohun Bagan at home on Saturday afternoon. Henry Kisekka's goal gave Mohun Bagan the lead in the first half. An own goal by Mohun Bagan defender Lalcchawnkima restored parity in the match in the second half.
Speaking on his team's performance, Gokulam coach Bino George said, "We lost 6-7 games last season and we can only improve from here. Every point is very important so as to reach my target (for this season). 
"It has been only about 26 days since I took over. The team is adapting to my style. Players find it difficult to change the style quickly. First half performance wasn't good. We improved in the second half, they also played well. 
"Arjun said sorry to me after his miss. There is no coming back into the game after a miss in that last stage of the game."
On star player Antonio German's performance in his debut match, George opined, "German is not 100% fit. He did try things on the field. He is a holding player. When Henry (Kisekka) came in last season he became friends with the team. German is already a superstar, he will adapt to my style of play."
Henry Kisekka did not celebrate his goal as a mark of respect for his former club. On Kisekka's gesture, Bino said, "Henry calls me father, he knows my feelings."
Mohun Bagan coach Sankarlal Chakraborty was happy with a point from the away fixture. He said, "One point in an away match is good."
Bagan's arch-rivals East Bengal had earlier registered a 2-0 win over NEROCA FC in their opening match in Imphal. When asked about East Bengal's match, Chakraborty said, "I don't know what is going with East Bengal and I am not interested. We were focused on Gokulam."