I-League
I-League 2017: Mumbai FC's Santosh Kashyap- Our target hasn't changed, we'll try to finish in top three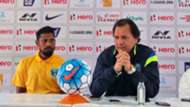 Cooperage will host the Maroon and Green brigade on Wednesday evening as Kashyap and company will hope to turn their fortunes around. The Mumbaikars are ninth on the table following six back-to-back losses. The manager's woes don't seem to end but Kashyap believes this tough period shall mould him into a finer gaffer.
''We are in a bad phase. When we have limitations of budget and players and you want to achieve something extraordinary, in that process some setbacks happen. In my coaching career until now, I have never experienced six losses in a row. I believe I'll become a better coach (during this phase),'' he expressed.
The 50-year-old will face his former ward Mohun Bagan and the coach has stated The Yellows believe it's a significant fixture. Further, Kashyap revealed a list of players who would be sidelined due to injury concerns.
''I'm taking this match very seriously. It's important to us. All our four foreigners are available for tomorrow. However, Steven (Dias) is out, Lalchhawnkima is struggling with a hamstring pull, Victorino (Fernandes) and Pratesh (Shirodkar) are sidelined too,'' he discussed.
Fault-Lines: Mumbai FC's downfall decoded
The Mumbai boss is a strong believer of attacking football but his tactics haven't borne fruit. On being quizzed if the team's woeful run has changed their aim, Kashyap replied,''Our target hasn't changed, we will try to finish in top three. However, let's see where we end up at the end of the season!'' he exclaimed.
As for Mohun Bagan, manager Sanjoy Sen has a list of absentees too. Kean Lewis and Raju Gaikwad have been declared to miss the face-off at the metropolis.
Speaking more on Mumbai born Gaikwad's fitness, Sen revealed, ''Raju Gaikwad was injured since the start of the season. He is recovering now and training with our physical trainer. He's doing fine now.''
Mumbai FC vs Mohun Bagan Preview- Will The Mariners widen Mumbai's cracks?
However, one big blow to the Mariners would be the absence of Haitian Sony Norde. The winger is suffering from knee pain and is doubtful to feature for the clash.
''Sony Norde has a 50-50 chance to feature. I never force any player to play. He trained today morning, let's see how is he feeling after it,'' explained Sen.
Lastly, commenting on opponents Mumbai, the ex-Prayag United coach stated that the Essel Group-owned side will aim to regain their form on home soil. ''Mumbai are a good team. They started off with two wins. Since this tie is at their home, they will aim to bounce back from their bad form. We need to be alert and the fixture will be a difficult one for us,'' he signed off.