I-League
I-League 2017: Kashyap boosted by new signings while Chennai City coach relishes his 'big' opportunity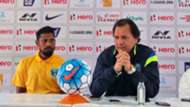 The round eight I-League clash between Chennai City FC and Mumbai FC at the Jawaharlal Nehru stadium in Chennai on 11th February will see two teams in poor form lock horns. While bottom-placed Chennai City have a new manager at the helm, Mumbai have lost five straight games before this fixture. 
New head coach of the South Indian team, V Soundararajan, was one of the first coaches from India to hold an AFC pro-coaching license. He has finally got a chance to manage in the country's top-flight league and the Tamil Nadu-born coach sounded determined to make this opportunity count. 
Chennai City appoint V Soundararajan as head coach
"Now I have got a very good opportunity. This is a big chance for me. Though the team is in the bottom, I want to channel everything I learnt in Germany (during the coaching license course) and help the team," he stated bullishly. 
"We have nine players with Indian Super League experience and four foreign players and I don't know how such a good team is playing like this. I have watched the games and corrected the mistakes. It should not happen in the future," he added further.
When asked about the team's forwards, who have registered only three goals so far in seven games, Soundararajan was extremely critical of Brazilian forward Marcos Vinicius. "Only Charles (de Souza) has the correct attitude. Marcos (Vinicius) is slow and he is only good in the air. His dribbling is also poor. That was not what we expected from him," he analysed. 
He also stated that Chennai City are desperate to win Saturday's game as it would temporarily lift them up from the bottom of the table. 
"We have discussed Mumbai and tomorrow is a vital point and a win will help us leapfrog them. Tomorrow's game is like a tournament final for us. We are only thinking about the upcoming game," he assessed. 
REPORT: Aizawl 3-1 Churchill Brothers 
Mumbai FC are in a slump of gargantuan proportions, having not gained a single point after starting the season with two wins. However, the mood in the camp has been uplifted by several new signings that include former Chennaiyin FC right-back Mehrajuddin Wadoo and Afghan international defender Djelaludin Sharityar. They are also close to signing a couple of Brazilian forwards.  
"We had a great start with two wins and then we had tough away games. Also we had injuries and tight schedules. We are conceding silly goals and then are forced to chase goals. In the last game against Minerva, the conditions were windy and the ground was poor as well. We have worked hard in defence for this game."
The former Royal Wahingdoh boss also sounded wary of Chennai City and said, "Both teams are in bad phases. Also, I've never been in such a phase (five straight losses) so far in my career as a coach or as a player. But I believe our mindset has improved. We need to start from zero. My experience tells me that a new coach will boost the mentality in the opposing team. Plus, it is a home game for them and they will put up a challenge."
Mumbai FC will miss the services of Thoi Singh for this game as he is away on leave for his marriage. Lalchawnkima is a doubt for this fixture, though. Chennai City are also beset with injury worries - Karanjit Singh, Haroon Amiri and Abhra Mondal have been ruled out.