I-League
I-League 2017: East Bengal's Trevor Morgan - 'Robin Singh is one of the best target men in India'
10:18 PM GMT+4
25/02/2017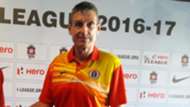 East Bengal downed Bengaluru FC 3-1 at the Kanteerava Stadium on Saturday evening, a result which propelled them once again to the summit of the I-League table.
Coach Trevor Morgan was pleased that his side bounced back after suffering a 1-0 defeat at the hands of Aizawl FC in their last game.
"You can only do your talking in football on the pitch. It was important that we show a bit of character and resolve because we were poor last game and the players have earned the right to enjoy tonight after that performance. It was very pleasing the way our players approached the game, scored a couple of really top quality goals.
Does this stat prove Diego Costa is the best Premier League scorer ever?
"We were under pressure in the last 10 minutes or so because we dropped deep having been 3-0 up and that was caused us some problems. They have answered the criticisms that have come their way. The only way to stop that criticism is by winning games. Top performance from everybody tonight," said Morgan.
The former Kerala Blasters assistant coach mentioned that his players enjoyed playing in Bangalore as the city had one of the best stadiums in the country.
"We prepared exactly the same way to play against Aizawl and never performed. Coming here, it makes you want to play. Great surface, good atmosphere and great stadium for football and the floodlight games as well makes it completely different. The players really enjoyed. You have to play in all sorts of stadiums and surfaces in this league.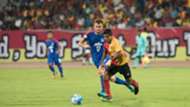 "We've come to play in one of the best stadiums in India. The home team gets fantastic support. I am glad there were so many of our supporters here and we were able to make them happy," he said.
Robin Singh scored a couple of goals in the second half and coach Morgan stated that if the striker wishes to be a part of the Indian national team, he must continue to perform in the same vein on a consistent basis.
"It certainly looked like it (if Robin was back to his best). I know he can play and we haven't seen much this season. But he showed what he can do. If he wants to get back in the Indian team that is the level he has to play week in and week out. When he does that, he is one of the best target man in India. So, it is up to him now where he wants to take this, keep improving, get back into the national team and do well for us," he opined.
'Benzema could make France return' - FFF chief
At the end of the game, Bengaluru FC coach Albert Roca and Mehtab Hossain allegedly got involved in a tussle and Morgan shared his thoughts on the said incident.
"I think so that Mehtab applauded the Bengaluru fans but we don't need to do that and have to do our talking on the pitch. Maybe their coach was frustrated seeing that. If we had lost a home game, probably we might have reacted the same way. All I can say that nothing was meant by Mehtab. He has taken some criticism from fans but it was nothing - some pushing and shoving and it was over in 10 seconds," said Morgan.