I-League
I-League 2017: East Bengal's Trevor Morgan - Don't want to be on the end of an upset in Punjab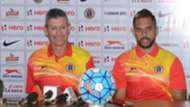 After a minor blip in the first match, East Bengal have won all their matches so far including a home win against Bengaluru FC last weekend in the I-League 2016/17 season so far.

Now, they travel to Ludhiana as Punjab welcomes back the top most footballing league of the nation. Minerva Punjab host their first match after four on the road.

Trevor Morgan admitted that the I-League is tough, "We have played across different surfaces, against different types of opposition and it's been a lot of travelling around. We are ready for tomorrow."
When asked about their road to Ludhiana after a huge away win against Champions  Bengaluru FC, Morgan told the media that "We had a good win against a good side."
"We have to prepare for a hard game against Minerva Punjab. We don't want to be at end of upset here in Punjab".
Minerva Punjab coach Surinder Singh opined that they have lost away points without a win from four away games.  "We are taking only the positives from our previous games and stepping into tomorrow's home game and we're playing to win three points."