I-League
I-League 2017-18: East Bengal's Khalid Jamil - Last match is the last chance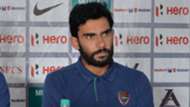 Shillong Lajong managed to come back from a goal down and take the lead but Dudu Omagbemi's late equaliser meant East Bengal dropped crucial points ahead of the final day of the 2017-18 I-League.

East Bengal head coach Khalid Jamil had least expected a 2-2 scoreline. " We got lucky (today) we got one point. We still have a chance (to win the title).  We thought we would get the three points easily. But Lajong played good," he said.

"After the early goal, we should have gone for another. If we are not getting one then keep the lead intact. It was silly mistakes. We conceded from set-pieces. It was a lack of concentration. If we had some belief, we could have seen out the game," he said pointing out the mistakes having conceded twice in the second half after securing the lead in the 20th minute.

He added, "You can say positivity was not there. Players were not up to the mark. We have to work hard. (Tactically), we sat a bit too deep. Should have gone forward and capitalised on the chances we got."

They now face fellow title hopefuls NEROCA FC at home on Thursday. Only a win for themselves coupled with losses or draws for both Minerva Punjab and Mohun Bagan in their respective matches can win Khalid Jamil his second successive I-League title with two different clubs.

"Let's see. It is like a final match. The players must think (about their mistakes). Last match is the last chance," parted Jamil with his final words before the build-up to the crucial day.

Shillong Lajong, who end the league season with 22 points will be banking on anything but a win for Gokulam Kerala to secure a direct entry into the Super Cup.

Coach Alison Kharsyntiew commented, "​The tempo of the game was quite high today. We conceded but came back well in the second half. We shan't have shipped in the second goal, it was due to lack of concentration. But, all the players put in a good effort.

"We have very young players. We are lucky to have such quality youngsters and I am satisfied with their performance. In the second half, we changed the tactics and the formation that is why we won the two goals," he concluded.