I-League
I-League 2017-18: Sankarlal Chakraborty laments poor home displays, Bino George praises Henry Kisekka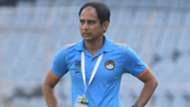 Mohun Bagan head coach Sankarlal Chakraborty was disappointed with his team's performance against I-League debutants Gokulam Kerala in the 1-2 loss at the Salt Lake Stadium on Monday.
"It is not the first time that we have lost on home soil. We discussed it a lot before. We will discuss it again of course. This is the first time in four years that we performed poorly at home."
Surchandra was brought on at half-time in place of Raynier Fernandes and his coach explained the reason, "Raynier's health deteriorated at halftime. He was having a respiratory problem and had pain near his spinal cord."
He further explained his other substitutions as well, "I substituted Cameron Watson because he was a bit slow today. Akram Moghrabi was also slow. Bimal Magar is a young player so I thought he would be better so I brought him. "
Sankarlal refused to talk about his team's chances for the title. "We are going match-by-match. We are focusing on the next match at the moment."

"We didn't play well today. If you play well you will win. If you can't play well you will not win," criticised the Bagan head coach.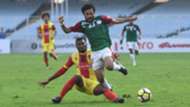 Gokulam Kerala head coach Bino George, on the other hand, was pleased by the effort put in by his team and talked about match-winner Henry Kisseka.
"The new striker joined a few days ago. He proved himself with the goal he scored. Henry came in the morning of the match against NEROCA and told me he is ready to play. We had no other option so he played the match."
"I spoke to the management about forming a reserve squad, like what Bengaluru FC is doing. Then, we will able to take players from there too," said George who has been vocal about issues his management has had to deal with regarding player recruitment. 
"I don't know what happened to Mohun Bagan today. In the second half, Bagan played well. I told my boys that there will be pressure from Bagan in the second half," said Bino George who also joked about the I-League 'man of the match' being Aser Dipanda.
Henry Kisekka netted the winning goal a few minutes after the award was announced. "I don't know who selects the 'man of the match' awards!"