I-League
I-League 2017-18: Khogen Singh - We have to encourage the local referees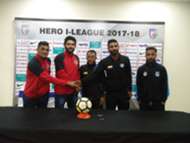 When table toppers Minerva Punjab FC host Kolkata giants East Bengal in I-League, it will be a virtual final for Khalid Jamil's men as anything other than three points will knock them out of the title race.
Minerva currently stand strong at the summit with 29 points from 13 matches, six points more than the Red and Golds who have played the same number of matches.
A defeat on home soil will not affect Minerva's position in the league table but it will invite unnecessary pressure in the last rounds of the league.
Speaking on the importance of the match, coach Khogen Singh said, "In my opinion, every match is important because we have not won the league. We might have to go to the last match of the league. So every match is final for us and East Bengal is very competitive. They have enough strength to make an impact. Some teams are out of the league. East Bengal and Minerva are hoping to win the title this year so it's very important for us to get the points."
The match is scheduled to happen at the Tau Devi Lal Stadium in Panchkula, Haryana. It has been reigning in Panchkula since yesterday.
Singh raised concerns regarding the condition of the pitch. He said, "According to the weather the game will be different I think. The ground is wet and slippery. The match will be very competitive. We have to go all out."
The Indian referees have come under fire this season due to poor decisions. Be it I-League or the Indian Super League (ISL) almost every coach has criticised the officials. But Khogen Singh has backed them and urged authorities to encourage local referees.
"We have to encourage the local referees. Foreign referees might have lots of experience and they might have conducted many competitive matches. We are facing refereeing problem but it's not much because here the referees they are doing their best. They are human beings, they make errors. We have to accept it but in crucial matches, we can have foreign referees but we don't necessarily have to obey this," said the Minerva boss.