Bernd Leno
'I joined Arsenal to play every game' - Leno admits to 'frustrating' start with Gunners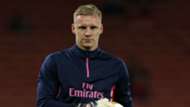 Bernd Leno admits to having endured a "frustrating" start to life at Arsenal, with a man who "came to the club to play every game" spending more time on the bench that he had intended to.
The Gunners invested €22 million (£19.2m/$25m) in the German goalkeeper over the summer, with Unai Emery moving to bolster his options between the sticks.
Leno was expected to slot straight into the team as the new man in charge at Emirates Stadium sought to implement a system which requires his side to play out from the back.
Veteran performer Petr Cech has, however, retained starting duties in the Premier League, with Leno only making his debut during a Europa League opener against Vorskla Poltava .
The 26-year-old told Standard Sport on his start at Arsenal: "I came to the club to play every game.
"But I think to move to a bigger club, another country, it needs maybe a little bit of time. It is a bit frustrating but I keep calm and work very hard to improve.
"The coach always makes the starting XI because of the performance. I think it could change, not every week, but he will change a lot. He didn't say the League is Petr's competition and the Europa League is mine. I will work every day hard to play more games.
"I came for the Premier League. I think it is the best. The Bundesliga is good but the Premier League is better, so I will look forward to playing any time in the Premier League."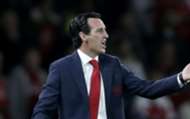 Leno believes he is suited to Arsenal's ball-playing philosophy and claims all of those at the Emirates are starting to feel more comfortable meeting the demands of Emery.
He added on the back of a 4-2 victory over Vorskla: "It is getting better and better [at the club].
"The game that the coach wants is my style. I think I did a good job with the ball, with the passing. Of course, the two goals were disappointing, but they scored great goals. Maybe I need a little bit of time.
"It is a little bit more of a risk to play this way because we don't want to kick the ball up front. We want to play because we have the players to play from the back to have more space in the opposite 18-yard box. 
"In the first half, the opposition was very deep, so we had big problems getting chances. So, when they started to attack more, there were situations where we can create chances by playing from the back. But it needs a little bit of time for the whole team to improve and to get the confidence."
Leno is now waiting to discover who will get the nod from Emery for a Premier League clash with Everton on Sunday, with Arsenal heading that into fixture seeking to secure a fifth successive victory across all competitions.