Primera División
'I don't understand how people can question Cristiano' - Ronaldo jeers baffle Di Maria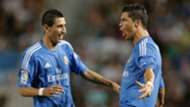 Angel Di Maria believes the criticism being levelled at Cristiano Ronaldo by Real Madrid supporters has become "exaggerated".
Despite being the club's all-time leading goalscorer, with a remarkable strike rate achieved across seven-and-a-half seasons, the Portuguese forward is not immune to criticism in the Spanish capital.
Is Messi more boring than Ronaldo?
Madrid followers are notoriously demanding, with any dip in form - be that personal or collective - seized upon.
Ronaldo has faced his fair share of jeers in recent weeks, with the four-time Ballon d'Or winner considered to have allowed his impeccably high standards to dip.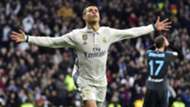 Former Real Madrid forward Di Maria has been left baffled by the taunts, though, with the Argentine of the opinion that the 32-year-old should he lauded as a legend.
The Paris Saint-Germain forward, who won La Liga and the Champions League alongside Ronaldo at the Santiago Bernabeu, told Marca on whistles from the stands: "It is exaggerated.
"He has given so much to Madrid, as others have. He has won two Champions Leagues and people forget that a bit. They always want more.
"The same has happened with [Lionel] Messi. People say he's not scoring enough, he's not like he was before, but overnight something sparks and the goals start to flow. I don't understand how people can question Cristiano."
Di Maria was subjected to similar criticism during his time in Spain and admits that some players can handle it better than others, with Karim Benzema and Danilo also experiencing tough times at present.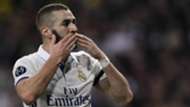 He added: "Some players are mentally stronger.
"I see Benzema as very strong - even though this happens, he likes to play and enjoy himself.
How Europe's best forwards are faring
"Danilo looks a bit different, it's a bit harder for him, and his head affects him a bit more. He must think about enjoying himself and being positive when he is playing.
"It happened to me many times, I had some ugly moments at Madrid, but it all changed and when I left Madrid in the end I was much loved."