Azam
"I do not want to lose any game" - Aristica Cioaba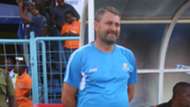 Azam FC Head Coach Aristica Cioaba has a predicted a challenging encounter when they face the reigning Tanzania Mainland Premier League champion, Yanga in their forthcoming match on Saturday. Cioba has however expressed confidence that his team will play tactfully to win the game. 
Cioaba has told Goal that Yanga is among the 'heavyweight' teams in the country and the defending champion of Mainland Premier League and Azam will need to fight tooth and nail to win the match. 
"We have embarked on an intensive three-day training ahead of the match which will be played at Chamazi Complex, the players are a bit of tired after a long journey (from the upcountry) but I am sure I will be able to put them together. I do not want to lose any game" said Cioaba. 
Azam FC is currently second in  the Tanzania Mainland Premier League table with 30 points out of 14 games. Should the ice-cream makers lose the match against Yanga it will put itself in a difficult situation towards winning the trophy this season.