Manchester United
How will Man Utd line up without Ibra, Rooney, Martial & Rashford?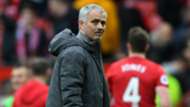 No Zlatan Ibrahimovic. No Anthony Martial. No Marcus Rashford. No Wayne Rooney. It is quite the absentee list which Jose Mourinho is having to wrestle with as he takes his Manchester United team to Stamford Bridge on Monday night.
Memphis on the road to redemption
Chelsea present the most difficult test yet of United's recent upturn in form, with a record of one defeat in their last 28 games in all competitions going up against the runaway league leaders in the last of this season's FA Cup quarter-finals.
With Ibrahimovic suspended for his elbow on Bournemouth's Tyrone Mings, United have also suffered the blows of losing Martial and Rooney to injury and 19-year-old Rashford to illness. The losses leave them with no recognised strikers in the senior ranks. Moreover, the under-23 side have also been playing without a recognised striker for a period of some months, meaning there can be no Rashford-esque impact player thrown into the mix.
So Mourinho must cope with a mix-and-match setup. He will have to shuffle his pack somehow, using whatever is available in his first-team squad to plug the gap. But that is not to say he doesn't have options.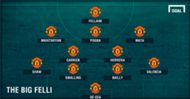 When Louis van Gaal announced prior to the Champions League play-off second leg against Club Brugge at the beginning of last season that Marouane Fellaini could be considered as an option at No.9, there was a general look of bewilderment in the press conference room as a response. But, just a couple of weeks later, he was lining up in exactly that position following an injury to Wayne Rooney ahead of what would turn out to be Anthony Martial's debut at home to Liverpool.
Proof Man Utd are making progress
As it happened, the switch contributed to one of the worst 45-minute periods in recent memory before the interval but United went on to win 3-1. Fellaini has not returned to the main striking role since that day, but the much-maligned Belgian provides United's greatest aerial attacking threat in the absence of Ibrahimovic.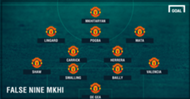 Another possibility is the use of a so-called 'false nine'. It might not be a typical Mourinho setup, but Henrikh Mkhitaryan's attacking threat could well persuade him to cause Chelsea problems in a very different respect. With no natural striker and a multitude of capable midfielders United could well win the midfield battle by numbers, swamping the centre of the field and backing Mkhitaryan to lead their attacking cause from deep against Antonio Conte's back three.
With seven goals each, Mkhitaryan, Paul Pogba and Juan Mata are United's highest-scoring available players, and their threat in front of goal is not to be overlooked. The element of surprise which the lack of a striker might cause could be United's best bet, with the first goal at the Bridge potentially crucial. If United can get it, then it would be time for an old-school Mourinho showing as his side look to defend their lead. Meanwhile, a Chelsea opener would not completely kill United's creativity if they have Mkhitaryan, Mata and Jesse Lingard all running angles around the intimidating Chelsea back-line.