Memphis Depay
How Memphis Depay has rebuilt his career at Lyon after Man Utd disaster
12:00 PM GMT+4
19/09/2018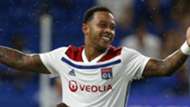 He may be deep into a new chapter of his career, but Memphis Depay returned to Manchester on Tuesday to find an old story creeping up on him.
Featuring a bad performance, a flashy car and a hat, Wayne Rooney's recent anecdote about the Dutch winger had all the signs of a certified Memphis misadventure. He promised so much upon his arrival in 2015 after looking bright at the World Cup and starring in the Eredivisie with PSV, but in just a few sentences, his former team-mate perfectly summed up that 18-month Manchester United spell.
"He came on at Stoke away and he messed up for their goal and he only played 15 minutes, so Louis van Gaal told him he was playing for the reserves the next day," Rooney said, referring to a 2-0 defeat in 2015.
"So, after the game, I just said: 'Look, it's going to be a bit difficult for you. Just don't come in with all your fancy stuff.' The reserve game was at Altrincham's ground and he turned up for it in his Rolls Royce, wearing a red leather jacket and a cowboy hat. And I just thought: 'What's the point?'"
It was not the first time a hat took centre stage in one of Memphis' more memorable moments of those months. Not long before he ignored Rooney's advice, he reported to the national team wearing a hat and a scarf, drawing condemnation from pundits for looking like a "Peruvian pan flute player". It was a talking point in his homeland for months.
With his eccentric fashion sense, Memphis continues to live up to the image of the flashy figure fans in England remember, but he has developed substance to back it up since joining Lyon in January 2017.
"Some people can't take a joke and me and Wayne are very good friends," he told reporters when asked about his sarcastic post on Instagram in response to Rooney's story. 
"Of course he is a legend and when I heard about it I was just questioning - I don't have a red leather jacket out of my thousand leather jackets!
"I'm a flamboyant guy and like nice stuff but that doesn't mean I couldn't be smarter. I've become more mature… I'm sure he's happy with how I turn up now and the football player I am. I've been gaining more quality and feel very strong. It's all good."
It did not take long after his move to France for him to regain the spark that saw him rated so highly in the first place, starting with a mix of the exuberant and the decisive with an unbelievable long-range goal against Toulouse. Right away, he was given more time and freedom to use his strengths than he had in England and began to thrive as a result.
In his first full season, he netted a hat-trick against Troyes and a stunning injury-time winner against Paris Saint-Germain. Then in March, a header in a 3-2 win over Marseille was the start of a run of 10 goals and seven assists in nine league games – ending with a hat-trick against Nice on the final day of the campaign. Only Edinson Cavani and Florian Thauvin scored more goals in Ligue 1 than he did in 2017-18, and he joined Neymar at the top of the assist chart with 13. He is already up and running this term after his excellent free-kick in the first game against Amiens.
Bruno Genesio moved him from the left wing to the centre towards the end of last season and seems set on keeping him there following Mariano Diaz's return to Real Madrid. His movement opens space between defenders for Bertrand Traore to drift into, and with Martin Terrier on the other wing, Lyon have a very quick attack that is sharp in counterattacks.
The attacker is on a good run with the national team, too, scoring six times in his last nine games over the last year, including both goals in a comeback win against Peru this month. Oranje waved goodbye to another revered superstar in Wesley Sneijder in that game and are still looking for the next talisman to make himself known. While Ronald Koeman's rebuilding continues, Memphis has looked the most capable of stepping into the role he was tipped for during his rise at PSV.
As a cocky and inventive player, the Moordrecht native aims to amaze and deceive with his skill and control, but he often picks the wrong moment or pulls off tricks that are more about showmanship than effectiveness.  That recklessness also shines through in his trigger-happy nature, but he is less selfish than in his early years and still showing progress.
At 24, Memphis still has plenty of time to develop further and his determination to reach the top has never left him, regardless of the car or clothes he turns up to training in.