Euro 2016
Hodgson questions Liverpool approach amid Sterling fitness row
11:10 AM GMT+4
14/10/2014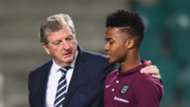 England manager Roy Hodgson has questioned Liverpool's two-day recovery programme after leaving Raheem Sterling out of his starting line-up to face Estonia.

The 19-year-old began the game on the bench after informing Hodgson he was feeling tired, before coming on as a 64th-minute substitute in the 1-0 win in Tallinn.


Hodgson says he sees no medical evidence to support a two-day recovery programme emloyed at Anfield, and has warned players it is not something they should expect when on international duty.
"Raheem might say it is something that is becoming ingrained in him and that he felt the need to talk about being tired more than he would normally do," he told reporters.
"But we have never had any problems with that. I don't think there is a lot of medical evidence to support the two-day recovery so if you want to, you might want to research that one.
"Certainly, the Germans, who you admire so much, don't do it. That is for certain. But obviously we always did and we did it from the start. We had people like John Terry, Ashley Cole, Steven Gerrard and Frank Lampard who I felt would be better off having an extra day or whatever.
"I would expect players not to take it for granted that there will be two-day recoveries but on the other hand it could easily be like this [international break] when we did virtually nothing in terms of what I consider to be training the day after the [San Marino] game.
"We did 40 minutes including warm-up [two days after] and that was at a fairly low-level intensity. But that was my decision."
The
England
manager also says he plans to speak to Reds boss Brendan Rodgers about Sterling, with the pair having already clashed after Daniel Sturridge was injured on international duty in September.
"I think I should speak to Brendan, but it is very simple and I am sure he understands," he added.
"He looked a bit tired when he came up and I will just tell [Rodgers] that; that he was feeling a bit tired and I made the decision from that to play [Adam] Lallana."
//