Fiorentina v Napoli
His father's son - Meet Tottenham target and NxGn starlet Giovanni Simeone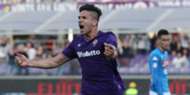 In the summer of 2013, Giovanni Simeone went viral – much to the hilarity of football fans worldwide.
The teenager had been promoted to the River Plate first-team for pre-season training and, sticking with the long-standing Argentinian tradition, his new team-mates gave him a hairstyle to remember. It was quite the introduction for the hitherto unknown son of Ateltico Madrid coach Diego Simeone.
And this past weekend, he went viral again. Though this time the only laughs arrived from Turin as the Firoentina striker hit a wonderful hat-trick to crush Napoli hearts and all but hand Juventus another Serie A title.
The 22-year-old striker has come a long way in the years since that memorable presentation to the football world, emerging this season as one of the most-promising centre-forwards in Europe and earning interest from a host of Europe's elite, including Tottenham Hotspur.
"Simeone is a great player and a good person: he can become a top player in the future," said team-mate Nikola Milenkovic.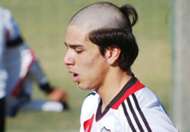 The benchmark is high. After all, Gio is his father's son. And Diego's influence has certainly contributed.
"At the start, I played in the same position [as him], but then my father told me, 'No, it's not your place'," Simone told The Times this week.
"When I was young, I had a powerful shot and all the keepers were quite small, so if I hit it hard it would go in, so my dad said, 'Go up front, that's your spot'."
It most certainly is. Since his finding his feet up top, the Argentina youth international has morphed into the archetypal no.9 in a contemporary landscape that has almost done away with them completely.
Not that Simeone is a pure penalty-box striker. He's evolving to become more of a complete forward with every season, improving both his general and approach play.
With 13 league goals so far, he is already enjoying the best goal return of his career to date and, in just 150 extra minutes, has almost doubled his tally of chances created for his team-mates (from 18 to 32), while his passing accuracy has jumped from 65 per cent to 70.
Nicknamed Cholito (inevitably assuming the diminutive of his father's moniker, Cholo) Gio is now in the sort of form that would well result in a family reunion.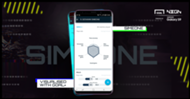 Both father and son have spoken of their dream to work together and an early departure from Florence certainly wouldn't be out of the norm for the young forward who's already at his fourth club in just four seasons.
After struggling to make an impression in the River Plate first team, Gio jumped ship for Europe after Genoa were impressed by his season spent on loan at Banfield.
Twelve goals in 35 Serie A outings for the Rossoblu convinced Fiorentina to take the plunge and they may well face a battle to hold onto him this summer when the transfer window re-opens.
But, for now, Simeone is content and eyeing a strong finish to the Serie A season as he hopes for more performances like the one against Napoli. 
And next time he goes viral, it will no doubt be down to proving he's a cut above the rest for his on-field exploits.
Get Goal+ for your Samsung device now - it's the ultimate stats app for fans that features real-time performance data and is now available on the hottest new mobile device