Africa Cup of Nations Qualification
Henry Nwosu urges Nigeria to avoid early South Africa goal at FNB Stadium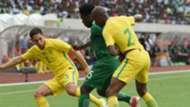 Former Nigeria international Henry Nwosu has urged the Super Eagles to avoid conceding a first-half effort from South Africa.
Both sides play in a crucial 2019 African Cup of Nations tie on Saturday and a win over Stuart Baxter's men will hand Nigeria a place in the Afcon finals billed for Cameroon next year.
Despite dominating proceedings, the first leg ended 2-0 in favour of Bafana Bafana in Uyo.
And Nwosu warns about how the atmosphere at the FNB Stadium can play against the west African visitors if their rearguard get breached early.
"I have been trying to take a look at the game we have against South Africa and I have come to the realization that we must keep our goal area sealed for the first half if we are to get a positive result in Johannesburg," Nwosu told Goal .
"They have beaten us before last year when they did so before our fans and they will want to fancy their chances in front of their fans. We must try to avoid conceding an early goal and try to be as coordinated as ever.
"We don't have to postpone our quest for qualification until the final game when we can achieve that in the next game on Saturday and start our preparations for the Afcon against Seychelles. We can't afford South Africa to beat us twice and we must try everything to stop that from happening.
"They are not in top shape as they were when the game was played June last year and it is our opportunity to capitalize on that. We only need a point to qualify and the Eagles must put their bodies on the line to get that."
The Eagles are first in Group E with nine points from four matches while second-placed South Africa trail with a point from the same number of matches. Libya and Seychelles are third and fourth respectively.