Leeds United
'He hates losing' - Bielsa's winning mentality praised by Alioski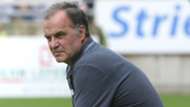 Marcelo Bielsa's winning mentality has been key to Leeds United's transformation this season, according to Ezgjan Alioski.
United tasted defeat in the Championship for the first time this season last Saturday after losing 2-1 to Birmingham City, and the Macedonian playmaker has spoken about the effect that loss has had on his manager's approach to their next match against Sheffield Wednesday.
He said: "It's not better to lose when you have Bielsa as a coach. He hates losing.
"He spoke with us and told us what we must do to improve. We know next time we lose we will have a hard week. It's good to have a coach that hates to lose."
Alioski, who has contributed three goals so far this campaign, also spoke of how this desire to win has impacted the squad.
He said: "The confidence is here. All of the players must believe, we work hard and we do all the right things that we think we should do to be where we want."
Bielsa was unwilling to blame his players too heavily for last weekend's outing, instead focusing on his own faults in a disappointing performance.
Reflecting on the result, the Argentine said: "I never say something if I don't have an argument for it otherwise people will suspect me. You cannot be a leader if you don't assume the responsibility.
"I think I gave some strong arguments to explain why I was responsible."
Bielsa will experience his first Yorkshire derby this weekend when he takes his side to Hillsborough to face Sheffield Wednesday on Friday night, and the 63-year-old is hoping that the local rivalry can be a catalyst for an improved performance.
He said: "Whenever you lose you always want to win. If it's a derby the willpower to win increases."
And, despite suffering his first league defeat, Bielsa is enjoying life in the Championship.
He said: "It's a beautiful competition. Football starts with the fans and stadiums. It's about the passion. Then you have the game and the beauty of the game. The spectacle you offer.
"The fans, stadium, passion, love for the shirt, here in England it is all on a high level. The spectacle and beauty of the game is sometimes good and sometimes bad."