Eden Hazard
Hazard: I wouldn't have got a touch against Man City if we played three hours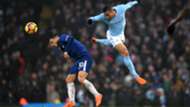 Eden Hazard is upset with Chelsea's submission against Manchester City after they were flattered to lose just 1-0 at the Etihad Stadium on Sunday.  
The 27-year-old did not have a shot and looked frustrated as he failed to have any impact in the game in a false nine role, with Alvaro Morata and Olivier Giroud both left on the bench. 
Antonio Conte defended his team selection after the game, but Hazard believes the tactics were wrong.
"I wouldn't have got a touch even if we played for three hours, even if we improved in the last 10 or 15 minutes," the Belgium international said after the match. "We were better with the ball, but we needed to do that during the whole match.
"For me personally, it's hard to play well if you only get the ball three times. But, when we got the ball, we had to use it better - we made the wrong choices."
Hazard was particularly frustrated by the direct approach of the team, which he felt did not suit him.
"I was trying to jump, but it's not easy to win duels against Nicolas Otamendi and Aymeric Laporte," he said. "We didn't play to our strengths today. If Morata or Giroud played, it would have been easier to play with long balls. I did my best.
"Conte put me up front, I tried to do my maximum, but I don't think we played a good match."
The attacker believes that City compared favourably to Barcelona, who Chelsea face in the last-16 of the Champions League next week, having drawn 1-1 in the first leg at Stamford Bridge.
"We have had opportunities against Barcelona, but nothing at all today," he said. "It was difficult, especially to get out of their pressing.
"If you have the ball, you immediately have three, four men on your skin. We also missed easy passes. We did not play a good game collectively, but we are going to work hard to do better next week."
Chelsea face a battle to finish in the top four to earn their place in the Champions League next season. Their next two league games are against Crystal Palace and Tottenham at home.
They also have key Champions League and FA Cup games against Barca and Leicester in the coming weeks.