Liverpool
Has Klopp been a success at Liverpool? Only if he lands a trophy, says Toshack
12:29 PM GMT+4
22/11/2018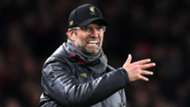 Jurgen Klopp has been warned that "people remember the trophies", with John Toshack claiming the German's reign at Liverpool can only be considered a success if he lands major silverware.
A man who has previously delivered title triumphs in his homeland with Borussia Dortmund has earned plenty of plaudits for his work in England.
Liverpool have been guided to three finals, including a Champions League showpiece last season, while also forcing their way into contention for the Premier League crown.
They are, however, still waiting on their first tangible reward under Klopp's guidance, with a last step onto the top tier of any given podium taken back in 2012 during Kenny Dalglish's second spell at the helm.
Anfield legend Toshack told the Blood Red podcast on the challenges facing the class of 2018-19: "At the end of the day, particularly at the top clubs like Liverpool, you're going to be judged by the trophies that you win. 
"You might think it's not fair, you have a terrific season and just miss out, finish runners up in a really good championship campaign, be beaten in the semi-finals of a cup or whatever. 
"At the end of the day, the years go by, people remember the trophies. 
"To be three years and four seasons at Liverpool and be trophyless, from a distance you say, 'That is not successful. It can't be.' 
"At the same time, those of us in the game know there's only one who can win it, three trophies or whatever. 
"Maybe this is a big year for Liverpool. I think Man City are just that little bit ahead of everybody else. 
"I think if Liverpool can do it this year, it'd be great for the club and for everybody and Klopp. It would take the pressure off. 
"I'm pretty sure once they win one, they'll go on and get a couple more. It's just getting that first one that is the most difficult and the most important."
Liverpool have already been dumped out of the Carabao Cup this season, having suffered defeat to Chelsea, but they are unbeaten through 12 Premier League fixtures, are chasing down a place in the last-16 of the Champions League and still have an FA Cup campaign to come.