World Cup
Harry Kane a 'complete player', says former Panama manager Dely Valdes
10:30 AM GMT+4
24/06/2018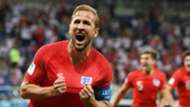 England captain Harry Kane has been labelled a 'complete player' by Panama's former manager Julio Dely Valdes.
Kane was the match-winner in England's World Cup opener against Tunisia by scoring a brace, with his stoppage-time header securing the 2-1 success.
The Tottenham star has established himself as one of the best strikers in the world in recent years, scoring 20 or more Premier League goals for four consecutive seasons and reaching 30 for the first time this past campaign.
He will next lead the England line in their second Group G game against Panama in Nizhny Novgorod on Sunday and Dely Valdes is aware of the threat Kane will pose.
"In recent years he has been one of the strikers who has the most impressive statistics in Europe," Dely Valdes told Goal. "He scored a lot, we know it.
"Kane is a reference point in his position in the world because his role was also very important in the game, in addition to scoring a lot of goals.
"He is a key player in England's selection, and Panama will have to be vigilant against him. He is very efficient, realistic, powerful. Technically and physically, this is a complete player."
Panama started their first World Cup finals with a 3-0 defeat by Belgium and, after tackling England, will meet Tunisia in their closing group fixture.
Dely Valdes added: "I think England will be very competitive. But, paradoxically, the most difficult game to manage may be that of Tunisia because it will be the last.
"This game, we'll have to play it! All these teams are strong with their different characteristics. They all have better experience than we do at a World Cup.
"But each game is a different story. In the end it is really necessary to approach each match individually, to do things in the right order and take it a match at a time."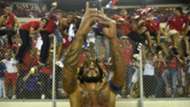 Panama reached their first World Cup finals by pipping the United States and Honduras to the last automatic qualification place in the CONCACAF section.
Though they are lacking experience on the global stage, Panama possess the oldest squad in Russia and Dely Valdes has pinpointed two key players.
"Players from the current national team do not play in the major European countries, but there are players who play in smaller leagues," said Dely Valdes.
"One player has an important role and who can be noticed in this World Cup is Jaime Penedo, the goalkeeper. He has a lot of experience, a big motivation, many games behind him with the national team.
"Then there is Roman Torres, defender and captain of the team. He will be a leader in this World Cup for Panama. We have experienced players. We must now find a complement with the youngest players."