UEFA Champions League
Guinness Choose Your Side: Real Madrid v Liverpool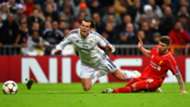 Why Liverpool will win by Ignat Manjoo
It is strange to think that Real Madrid could win three UCL titles in a row, as if nobody's as good as them in Europe. Have they been so superior to the rest of the continent? No. In the last six years they've only won one La Liga title. So they haven't even dominated their own country. If they beat Liverpool on Saturday then this could be their fourth Champions League title in five years. That is just unbelievable! I fancied Atletico Madrid to beat them in two of those finals. Real won through despite Atletico being better through the season, and despite Diego Simeone's tactics being suited to stifle their attack. That was a reminder that you cannot look at Liverpool's better performances in the UCL as a yardstick to judge the final. This is a new game, a one-off game where Real's psychological experience awarded them the advantage over both Atletico and Juventus in finals. 
Does that mean Real Madrid should win every final they play in? No. Unlike Real's other opponents, Liverpool's won the European Cup five times. Yes, Real Madrid's far ahead of any other club with 12 titles but LFC have a strong belief in their destiny too. They will look to inspiring experiences, beating AC Milan in Istanbul 2005 to demonstrate that they can win a final against heavy odds. So, that's the psychological factor out of the way. I've often felt that in a two legged game Liverpool's got a better chance to outscore any team, particularly with how dangerous they can be away from home. However they've also sat back and allowed the opposition in when they're not good at containing opposition. This has been one of their biggest problems and I think that a one-off final could play into their hands this time, because Real Madrid would have less time to react. The Reds need to continue playing in the same way they've done this season, where they can enjoy a spell by nailing the opposition to the ropes with three quick goals. Jurgen Klopp's team just need one such spell to get on top of Real, even if the Spanish club is leading. 
I was watching the 2007 final between Liverpool and AC Milan again. The likes of Jermaine Pennant wasted many good positions in that game, while Dirk Kuyt didn't have the quality to make the difference as Milan won 2-1. You'd expect there will be opportunities in Kiev too, and Keylor Navas would have to play the match of his life to keep Mane, Firmino and Salah out. Real Madrid has the advantage of potentially playing the exact same team that won the final last year. There were just two changes from the team that won the final two seasons ago. This is unique big match experience in a team that also has World Cup and Euro title champions. However with Russia 2018 round the corner and the player's legs shaking nervously to avoid injury, I believe the burning desire of Liverpool will beat the experience of the defending champions.
Liverpool's match winner
A match winner is not just the player who scores the winning goal. This is the man who wins the battle on the day. It could even be Virgil van Dijk at the back, but the key battle will be between Mohamed Salah and Marcelo. They both have the potential to hurt the opposition, and whoever comes out on top here will gain significant ground and space in the wide areas. In many Liverpool games Firmino is actually the main man linking up the wide players, but this time I can see the best moves originating through Salah. The Egyptian will need to feed Firmino or Mane for an easier goal. If Salah tries to do everything himself (like he was doing in some Premier League games to break the record at the end of the season), he would make the mistake of snatching at chances which is uncharacteristic of him. We remember his two great goals against Roma, and he needs to also remind us of the impact he made in the second half as a provider. If he can work those one-two's and provide assists then I can't see Sergio Ramos and Marcelo living with the Reds front three.
My score prediction: Real Madrid 2-3 Liverpool
Liverpool's matches are most difficult to predict because they can suddenly score or concede a number of goals. I can see the Reds taking a lead, but it'd need to be by two or three goals to be safe, otherwise Real Madrid could well take this game into extra time with a late equaliser. That is where the Spanish team will have the advantage because Liverpool will run themselves into the ground. Zidane's outfit will be faster in extra time if he brings on Gareth Bale as a substitute to win the game for him. So, the Reds need to instead win this match inside 90 minutes. I have a feeling Liverpool will be leading by two goals, Real can pull one back but that won't be enough in the end. When that's happening my message to Klopp is to keep his shape and avoid sending on Ragnar Klavan as an extra body for aerial balls. In many games this has resulted in an adjustment at the back that led to immediate errors. They should rather defend their lead by keeping the ball high up the pitch with their wide attackers.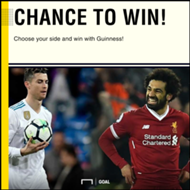 Goal fans "CHOOSE YOUR SIDE" with Guinness and you could walk away with Kshs. 2 million
Why Real Madrid will win by Kingsley Kobo
Real Madrid are planning to wrap up their season with silverware after failing to claim a title so far. Their only way of competing with archrivals Barcelona's bragging rights, is to conquer Europe once more and return to Spain with the prestigious Uefa Champions League trophy. Los Blancos have history in their sights, the motivation of winning the UCL three times in a row – what no other team has achieved in the modern era. Statistically, Real appear much more favoured than their opponents of the day, Liverpool. The La Liga club's experience is superior to any team in the competition, and on the road to the final they've beaten the champions of France, Italy and Germany. With coach Zinedine Zidane hoping to silence his critics from earlier in this season, this will all be extra motivation to get passed an inspired Liverpool outfit on the day.
Real Madrid's match winner
Of course you can't look further than the team's talisman, Cristiano Ronaldo, who is currently the 2017/18 UCL edition's top scorer with 15 goals. The five-time Ballon d'Or winner hates to disappoint and always wants to be the main man, especially when he is being counted upon to mark another point in Real's history. Surely, he wants to prove that he is the man for another Ballon d'Or, by leading Real Madrid to victory in Kiev. He knows he has to move ahead of Lionel Messi who's won the European Golden Boot and the La Liga title. Ronaldo might not even find the back of the net on the day, but his presence up field is enough a threat to the Reds' defensive setup. Liverpool's backline could be thrown off balance in handling incursions from the likes of Gareth Bale, Karim Benzema, Casemiro and Marco Asensio.            
My score prediction: Real Madrid 2-1 Liverpool
Real Madrid will also face the threat of Liverpool's attack in star players Mohamed Salah, Sadio Mane and Roberto Firmino who could stun Los Blancos in any given moment. The trio could trouble Zidane's men as long as their stamina and creativity are intact. However, Real are used to soaking up the pressure of any great European opponent in recent years. They could withstand Liverpool's rage all through the encounter and make sure the game ends in their favour.