Premier League
Guardiola's Man City coming together on the pitch and off it
10:32 AM GMT+4
27/07/2017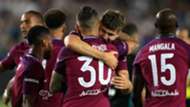 ---
COMMENT
---
Manchester City may have a bit more business to complete in the transfer market before Pep Guardiola has a squad he is completely happy with, but there are tentative signs that things are starting to come together.
Much has been made of the money City have spent this summer but the truth is that the Blues have plugged gaping holes in their squad, holes left, in the main, by years of slapdash investment.
Man City 15/8 to win the league
Director of Football Txiki Begiristain has got his act together in recent years and after adding Kevin De Bruyne and Raheem Sterling two years ago he brought in Leroy Sane and Gabriel Jesus last summer.
This time around he has been forced to address the full-back issue, one caused by a baffling inability to reinforce the position ahead of Guardiola's time in charge.
The money spent on Kyle Walker, in particular, has provoked critical headlines but the England right-back ticks virtually all of the boxes required by Guardiola and, in these early stages of his City career, he has slotted in well.
Danilo is no Dani Alves but he is versatile and he had a generally solid debut against Real Madrid, his former club. The plan had been to sign four full-backs this summer but City hope Danilo's versatility will mean they can get away with just the three.
The Brazilian suffered a first-half lapse in concentration against Real Madrid but otherwise acquitted himself well in what remains an unfamiliar role at left-wing-back. It at least allowed Guardiola to go back to one of his original plans.
The Catalan trailed a 3-5-2 formation during an open training session in front of hundreds of fans at the Stubhub Center in Los Angeles on Tuesday afternoon and it was that system, and the same players, who took to the field against Madrid at the historic Memorial Coliseum in Los Angeles. 
It is a system that Guardiola almost seemed to force on his players last season and although performances were better than results, he had to admit defeat.
De Gea is Man Utd's No.1 signing
There was one unconvincing attempt to revive it towards the end of the season but Jesus Navas and Gael Clichy hardly excelled in the wing-back roles. But now Guardiola has a new set of speedy, fit defenders who can motor up and down the touchline all game, and contribute plenty in attack.
Walker has demonstrated frightening pace so far on this U.S. tour, either in matches or training, and though Danilo did not offer too much going forward, it is a certainty that Benjamin Mendy will.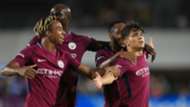 City paid Monaco £52m for the France international, and it will be some sight with him and Walker tearing down opposite flanks when he returns from a muscle injury, most likely once the Premier League season is underway.
The Blues' new full-backs certainly look the part, and they are not alone. Ederson, who is expected to usurp Claudio Bravo, was in fine form here, helping to banish the demons of an unconvincing derby debut in Houston.
The Brazilian made a string of saves and displayed his eye for a pass, and if he carries on in that regard few will bring up his £35m fee.
There were still a few glitches in the matrix and Madrid did create and spurn other chances which Ederson could not have reached, but City looked comfortable in a system which often left them exposed last year.
De Bruyne was quiet in his first game of the tour as 17-year-old Phil Foden shone, but the Belgian was at the heart of everything City did here, suggesting he is ready to have yet another influential season at the Etihad Stadium.
He and David Silva, injured here, were over-relied upon last season but still managed to drive City forward despite their workload. Bernardo Silva, another summer recruit, will lighten that load when he joins up with his new team-mates in Manchester next week.
Sterling looked bright when he came on and stroked home the type of cool finish which he produced on a couple of occasions early last season, only to seem to lose his nerve in the closing months.
Neymar's ready for stunning season
Guardiola does not see Sterling, nor Sane, as a wing-back, but if they can build on their efforts last season they will give their manager even more options.
That kind of versatility and quality will make City a dangerous proposition next season, especially if they can be propped up by the kind of sparkling cameos provided by Foden and Brahim Diaz this summer.
Still, Guardiola wants to add a centre-back, though is not overly enthused by the current options, and a world-class forward. 
City have told Monaco they want to be involved in the fight for Kylian Mbappe and they have certainly not given up on Alexis Sanchez, either.
Report: Man City 4-1 Real Madrid
There are back-ups in case those two are not attainable, with a number of pacy, tricky wingers on Guardiola's list.
Some see that as overkill given the quality already at his disposal but the City boss sees it as a necessity. Things already seem to be coming together and if one or implausibly both Alexis and Mbappe are brought in then few teams will be able to live with Guardiola's City.