Manchester City
Guardiola sent off at half-time as tempers boil over in Man City-Liverpool
11:42 PM GMT+4
10/04/2018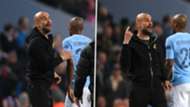 Manchester City manager Pep Guardiola watched the second half of the Champions League clash with Liverpool from the stands after being sent off following a clash with match officials.
Having lost the first leg 3-0 at Anfield, City came out for the return leg loaded with attacking options and immediately put the Reds on the back foot. 
Gabriel Jesus cut the deficit to two with a second-minute strike, while Bernardo Silva crashed a shot against the post as the hosts went all out for victory. 
Guardiola, however, took exception to some of the calls made by referee Antonio Miguel Mateu Lahoz, and at the half-time mark held a furious exchange with the official. 
Lahoz in turn sent Pep off as he walked towards the tunnel, meaning he was not able to take his place on the bench after the break. 
A disallowed goal for City towards the end of the first half was the catalyst for the former Barcelona and Bayern Munich coach's rage. 
Leroy Sane converted after Loris Karius's weak punch and a goalmouth scramble, but the winger's strike was called back for offside. 
However, television replays showed that Karius's punch came back off Liverpool team-mate James Milner and so the goal should have stood.
Lahoz's decision not to add on any additional time prompted boos from the crowd and saw City players and coaching staff speak to him before he left the pitch.
"I said it was a goal when the ball was passed to Leroy Sane. That's why he sent me off. It would have been different to go in 2-0," Pep explained to reporters after the match.
"It's different when Salah's goal at Anfield is offside. It's different when Gabriel Jesus' goal at Anfield is offside.
"In this competition the teams are so equal and the influence of refereeing decisions is so important. We'll go again next season. Big congratulations to Liverpool, Hopefully they can represent England well in the semi-final."
City faltered in the second half with their manager in the stands, as goals from Mohamed Salah and Roberto Firmino gave Liverpool a 2-1 win on the night and 5-1 victory on aggregate. 
"He's special," Guardiola told BT Sport of Lahoz. "When everybody sees things, he likes to decide the opposite. I didn't say any wrong word."