Africa Cup of Nations
Grant defends Afcon disappointment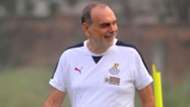 Ghana coach Avram Grant holds no regrets over his tenure as trainer of the Black Stars, as he prepares to bring his reign to an end this month.
Following a turbulent Ghana World Cup campaign, the Israeli was appointed in December 2014, endearing himself to fans by guiding the team to the final of the Africa Cup of Nations in Equatorial Guinea two months later.
However, the former Chelsea manager endured criticisms during his 25 months in charge of the team for unsatisfactory results.
"There is no need to think about that [anything I could have done differently] because you cannot change anything," Grant told Pulse Ghana.
"Basically, I think I did the right things here. 
"We built a good squad, prepared for games well and had good results."
Aside Ghana's poor start to the 2018 World Cup third round qualifiers, the Black Stars were disappointing at the just-ended Africa Cup of Nations in Gabon.
Grant, however, believes the recent fourth finish in Gabon is not an underachievement, considering the competitiveness of the Afcon and the examples of top teams who failed to make the tournament, to start with.
"We reached one final and in the second tournament we beat some good teams like Congo DR," Grant said.
"It was not an easy tournament because Nigeria didn't even qualify and likes of Algeria and Ivory Coast went home early [after the group stage]. 
"It hurts that we didn't win the trophy but I cannot tell my players to forget the past and recover and not do that myself."
According to Grant, there are already offers from clubs and national teams for his services.