NPFL
Governor Ambode boosts MFM's Caf Champions League campaign with N50 million
11:40 PM GMT+4
02/11/2017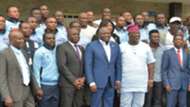 Governor Akinwunmi Ambode on Wednesday donated 50 million naira to MFM FC for securing qualification and prosecuting their campaign in next year's Caf Champions League.
MFM finished second in the league with 62 points from 38 games in their second season in the country's elite division.
Aside from clinching their first ever ticket, the Olukoya Boys will be bringing back continental football to the country's commercial capital for the first time in 16 years.
Governor Ambode lauded the impressive outing of the team last season, which resulted to their elite continental showpiece qualification at a reception in the Government House in Alausa, Ikeja.
He further directed that the Agege Stadium, which is the home-ground of MFM to ensure it is put in best shape and meet up with CAF standard before the inspection in December.
"I want to also say that we have directed our sports team and the Sports Commission to make sure that everything needed, just as earlier requested, to ensure that Agege Stadium is certified by CAF is done," Governor Ambode told media.
The Lagos state governor announced N25milion gift to the players and officials of the club for qualifying for the CAF Champions League and another N25million donation to make a successful campaign on the continent.
Applauding Ambode, MFM's Director of Sports, Godwin Enakhena commended him for the support so far to the team and assured they will not disappoint on the continent.